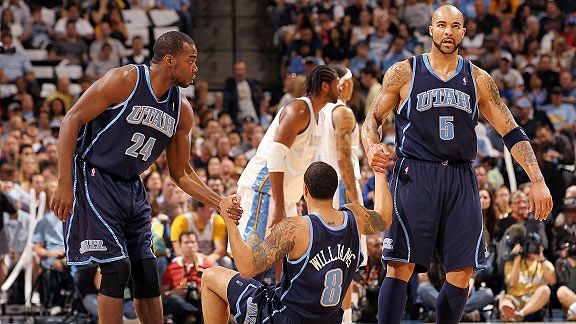 Doug Pensinger/NBAE/Getty Images
Game 2 was a huge pick-me-up for the guys from Salt Lake.
DENVER -- A beleaguered Utah Jazz team entered Game 2 in Denver with a litany of worries. In Game 1, they lost their starting center, Mehmet Okur, for the season with a torn left achilles tendon. That void thrust the very green Kyrylo Fesenko into the starting lineup for Monday night's Game 2. Meanwhile, the Jazz were already without their best defender, Andrei Kirilenko, whose absence put excessive pressure on his understudies, C.J. Miles and Wesley Matthews. Carmelo Anthony torched the young tandem for 42 points in Game 1, and arrived on Monday night hungry for more.
Undermanned on both the offensive and defensive ends of the floor, the Jazz had only one saving grace -- their lethal screen-and-roll combination of Deron Williams and Carlos Boozer. The pair orchestrated a clinic on Monday night, baffling the Nuggets' defense with their two-man waltz, with Deron Williams as the lead. Williams finished with 33 points and 14 assists, vaulting the Jazz to an improbable and frenetic 114-111 win over the Nuggets at the Pepsi Center, tying the series at one game apiece.
"This is a big win for us," Williams said. "Nobody was really giving us a shot. We just wanted to come out here and put that to rest. We feel like we still have a great team that can compete and we're really proud of how we played and battled tonight."
Williams had a series of offensive imperatives on Monday night, and he succeeded at every one of them. First, he attacked Denver off the dribble every chance he got, looking for either a seam to the basket, or contact against a collapsing Nugget defender. Williams made his way to the stripe for 18 attempts, draining 16. Second, Williams engaged Boozer -- and occasionally Paul Millsap -- with their patented pick-and-roll. Finally, if Williams was unable to find a path to the rim or his post option was covered, he empowered weak side threats like Kyle Korver and C.J. Miles by executing the Jazz's offensive system to perfection. Korver scored 13 points, while Miles had another solid offensive performance with 17 points.
"[Williams] set the tone from the beginning," Boozer said. "He came out aggressive, got to the basket, hit shots -- jumper after jumper -- then got to the free throw line ... It made the job easier on the rest of us because he was playing so well offensively."
Williams' most exquisite play came out of a timeout with 1:43 remaining in the game and the Jazz trailing 106-105. At the top of the circle, Williams broke down Chauncey Billups off the bounce. When the Nuggets' wing defenders collapsed on him in the paint, Williams threw a dart to Korver in the right corner, where the sharpshooter drained a 3-pointer to put Utah on top 108-106, a lead that they would never relinquish.
"I was kind of open a lot in the fourth quarter," Korver said. "Never wide open, but kind of open and I kept telling myself, 'Be ready.'"
Utah was open a lot in the first half. The Jazz shot a blistering 73.3 percent in the first quarter, and 67.7 percent overall before halftime. In addition to Williams' proficiency from the outside, Boozer killed Denver both rolling to the basket and by flashing to the top of the circle, where he drained a series of high-arching shots during a 17-3 Utah run to close the first half. Boozer scored 20 points on the night.
Leading 63-51 at intermission, the Jazz had to sustain a furious 14-0 rally by the Nuggets in the third quarter. The Nuggets combined a sequence of strong stands on the defensive end and aggressive ball pressure to fuel their comeback. The Jazz gave the Nuggets a hand by putting them in the penalty at the 9:18 mark of the period.
"We know who they are," Jazz head coach Jerry Sloan said when asked about Denver's rally. "It's not a secret. They're a terrific team -- and they can score. They can really score easily."
Both Denver and Utah are notoriously foul-prone and that held true Monday night, as the teams combined for 91 free throw attempts. In total, there were 73 successful free throws converted to 71 made shots from the floor.
Utah regained control of the game for a stretch at the end of the third quarter behind three Korver jumpers and three pairs of free throws, but would have to withstand another run by Denver in the fourth quarter. A turnover and a blocked shot on consecutive Utah possessions ignited the Nuggets' break in the opening minutes of the period. Billups lobbed a pass on the break over the Utah transition defense to Nene for an easy slam. Then Smith collected his block of Williams' layup attempt and found Billups downcourt for a spot-up 3-pointer to give Denver its first lead of the second half at 92-91.
The game's final nine minutes were a back-and-forth affair. Each team pounded the ball inside as the interior defenses disintegrated on both ends. Utah spread the wealth as Williams compiled five assists over the final stretch, while Denver put the ball into Anthony's hands and let him attack the Jazz inside. In the run-up to Monday night's game, Utah vowed to match Denver's prolific offense with a more rugged brand of physicality. Anthony, in particular, was able to roam around the floor relatively untouched in Game 1. Utah's defenders clearly adjusted their strategy on Anthony. As advertised, Miles and Matthews bodied up on him, invading Anthony's space by playing right on his hip.
"They tried to force me more to go to the basket," Anthony said. "They tried to jam me a little bit."
That strategy can be seen if you examine Anthony's shot chart. He finished the night with 32 points, but he converted only 9 of his 25 attempts from the field – every one of those nine in the immediate basket area. Like Williams, Anthony took advantage of a tightly-officiated contest, earning 15 free throw attempts of his own. For Jazz's part, they were relatively satisfied. Utah appreciates that stopping Anthony from scoring is an impossibility. The goal for Miles and Matthews coming into Monday night's game was to frustrate Anthony and take him out of his comfort zone. Mission accomplished on both counts.
"They did great" Boozer said of Miles and Matthews. "They set the tone by being a little more physical with [Anthony] when he crossed over half court."
The Nuggets were whistled for 37 fouls -- a new record for a Jazz playoff opponent. Throughout the game, Denver was demonstratively upset with the officiating, though the free throw disparity favored Utah by only a 47-44 margin. The Nuggets' frustration was palpable and the excess emotion might have been detrimental to their cause.
"We talked about trying to get under their skin a little bit," Williams said. "We wanted to be physical with them from the start of the game, make guys have to work a little harder for their points. I think we did a good job of that tonight."
Denver will have a hard time erasing the memory of the game's closing minutes, when they led the Jazz by three points inside of three minutes. In addition to a missed Billups free throw with 53 second left, there were two offensive fouls -- one each by Billups and Anthony -- along with two additional miscues by Anthony. The first occurred when he brought the ball low on a drive to the basket, ultimately getting stripped and turning it over to Utah. The second mistake came with 25 seconds left with the Nuggets trailing by a single point. Anthony decided to pressure Miles aggressively in the backcourt, and picked up his sixth foul in the process.
"We'll take all those," Williams said of Denver's blunders.
The Jazz's resilience stems from the confidence that if they implement their program with intelligence and poise, they can succeed, even with key personnel in street clothes. Utah's belief in that system is a primary reason why the Jazz have tallied only one losing season in Sloan's 22-year tenure. Even with Okur and Kirilenko sidelined, Utah's offensive schemes hummed with a familiar precision on Monday night. If anything, the injuries seemed to strengthen the Jazz's resolve.
"Their team is a wounded team," Billups said. "They came out and took care of business."
Cornered and bloodied, the Jazz mimicked the Trail Blazers and wrested home court advantage from an ostensibly superior opponent with more firepower. The wounded animal bit back.