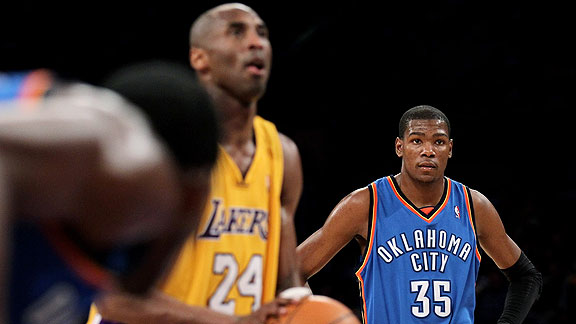 Stephen Dunn/Getty Images Sport
The best players in the world, standing around.
Derek Fisher was trying to find Pau Gasol in the post. There were about five minutes left in a one-point game. Gasol is one of the most talented big men in the world. If he could catch that ball, the Lakers would have all kinds of fan-pleasing options, perhaps including Kobe Bryant cutting down the lane, catching a pass and making magic.
Playoff crunch time, with a thousand story lines in play. This is why people love the NBA.
But -- it happens! -- the Thunder's Serge Ibaka and Russell Westbrook converged on the ball as Gasol reached for it, and a whistle sounded. A foul on Ibaka. There were five minutes and six seconds left in the game.
Never mind. Dreams will come true on another play. From that point on, there were 24 possessions. 24 opportunities for something to happen. 24 players on the teams' active rosters, all of whom had trained meticulously just for moments like this. Somebody was bound to do something amazing. Something acrobatic, something daring, something that would make you stand and cheer.
Here's a little quiz. Out of those 24 possessions:
How many buckets were scored?

How many times did a referee blow a whistle?
Here's my sad tally. In the final five-and-change minutes, the game featured:
A grand total of three made baskets -- A Gasol layup, a Bryant jumper and Jeff Green's leaner in the lane.

14 referee whistles -- 13 fouls and one basket interference.
There were also 11 missed field goal attempts to go with 21 free throw attempts.
Awesome!
I don't know that there's a moral to this story. Sure, Thunder fans will be miffed that ten of those 14 whistles were against their team, but I'm not sure any of those calls were bad, nor can I recall any blatant missed calls.
What does seem evident, however, is that in some of the games of this year's playoffs -- this one, for instance, and Utah vs. Denver the other night -- there seems to be a gulf between what the players and referees think is allowed.
The referees always seem to win that battle in the end, which is as it should be. They have to call them as they see them. But I can't wait until all parties involved get on the same page as to what is and what is not a foul in the playoffs. Because as the players and referees work that out night-by-night, we fans can be the real losers.