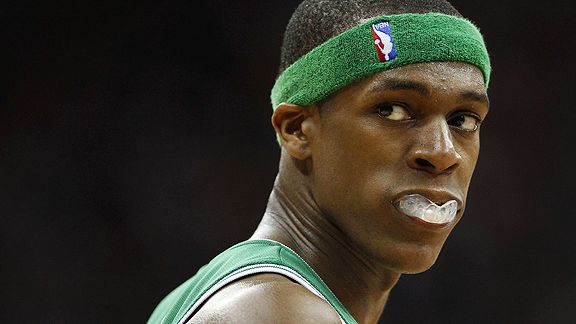 Gregory Shamus, Getty Images Sport
The tactic has been to give Rajon Rondo room. In Game 4, that was a costly mistake.
After Rajon Rondo's Game 4 explosion (29 points, 18 rebounds, 13 assists, two steals and one series-changing victory) LeBron James has been talking about wanting to guard the Celtics' point guard himself. And that may well prove to be a remarkable tactic.
However, if the Cavaliers are second-guessing their defensive approach, I wouldn't assume that Anthony Parker and Delonte West were the problems in Game 4. Instead, I would point the finger at the Cavs' tactic of giving Rondo all the room in the world on the perimeter.
"When you leave a player wide open to shoot the ball, you're basically telling him 'you can't shoot," explains David Thorpe. "But you're not making it better for your team to guard him off the dribble. That's a myth. A lot of people don't know that."
It's an old idea of basketball, that if the guy can shoot, you get up into him. But if he can't, you hang back to stop the drive. Thorpe's saying that there's nothing about giving a guy a ton of room that makes it easy to stop the drive, which Rondo has just proven nicely at the expense of the Cavaliers.
Using Synergy Sports I just watched every Rondo possession of Game 4. There's some of what you'd expect on offense, for instance Rondo missing a lot and making a few open jumpers, and getting out on the break -- he's one of the fastest players in the league -- to draw fouls and make layups. I'm not sure there's a lot a defense can do to dramatically change those things which were fairly limited anyway.
Instead, the main thing I saw was Rondo catching the ball, or dribbling, against a set half-court defense, with an acre of space all around him, almost like he was in a bubble. There's Parker under the Kevin Garnett pick, or there he is with two feet in the paint, while Rondo is at the 3-point line.
Rondo spent very little of that game under duress, because the defense was, by design, almost never in his grill.
Parker is a good defender, but you have to let him defend for him to be effective.
Rondo used that space to tremendous effect. He lobbed passes to teammates at the rim (eight of his 13 assists were against half-court set defense). He drifted around, so that the defense lost him entirely (for a floater in the first quarter, and a foul at the rim in the second). And, as Thorpe has described and predicted for years, as a quick guard he used that room to get up a full head of steam to blow right past defenders who have the unfair disadvantage of starting from a standstill.
When Rondo beat Parker like that, often the lone Cavalier in position to help was Shaquille O'Neal. Years ago, O'Neal vs. a guy Rondo's size would have been an unfair mismatch in O'Neal's favor because of size. Now, it's a tale of a speed mismatch, the bullying goes the other way. O'Neal has no idea where Rondo's going to go. Past him? Reverse? Floater? When it's Rondo vs. O'Neal, Rondo feasts. And when he finds faster defenders meeting him in the lane, on other drives James or Varejao met the Boston point guard on his way to the rim, Rondo's go-to move is merely to throw his body into them to draw fouls, which worked again and again. Rondo shot 16 free throws.
James, Parker, West, Jamario Moon, whoever's on Rondo in Game 5 ... Game 4 would seem to suggest that they'd be smart to actually be on him, instead of a couple yards away with fingers crossed that he'll pull up for the jumper.