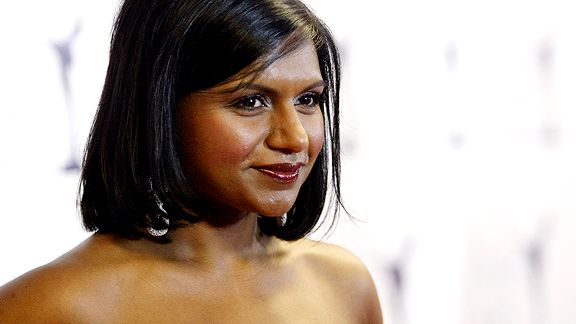 Wire Image/Getty Images
A newcomer to the NBA twitterverse: Mindy Kaling, who plays Kelly Kapoor on "The Office."
At the NBA draft lottery, if you're in the room with the pingpong balls, you're in there. As in, you are not allowed out -- not even by wireless (jammed, somehow) or cell phone (confiscated upon entry).
Which is part of the fun. You get to see the drawing happen, but you don't get to talk about it with the outside world before the results are revealed on TV about an hour later.
There's a moment after the doors are closed, but before the drawing, when they ask "one last time" if anyone has to go to the bathroom. A few of us did leave the room, accompanied by security. Making our way down the hall of the third floor of the NBA's Secaucus offices, there was a need for small talk.
Did we talk about John Wall vs. Evan Turner? The Celtics' defense? Mikhail Prokhorov?
We talked about none of those things. Instead, we talked about "The Office." Specifically, the episode where they have some kind of secret Santa thing on steroids called "Yankee Swap."
The NBA, at least some of it, loves "The Office."
Now there's a little evidence that it may be a two-way thing. During Game 5 of the Western Conference finals, Mindy Kaling, a writer and actress on the show (she plays Kelly Kapoor), unleashed a series of savvy and hilarious NBA-themed tweets.
For instance:
Kobe was insane, Nash was unsane, and both the 'ics were ornery. I had a Chicago dog. best night ever?

Who else lives in the miniscule overlap on the Venn Diagram of people into the Western Conference Finals AND Sex and The City 2?
That line about the 'ics -- Sasha Vujacic and Goran Dragic -- was true.
Later, she joked to her million-plus Twitter followers that she'll cover the whole rest of the playoffs for ESPN. She'd be good at it!