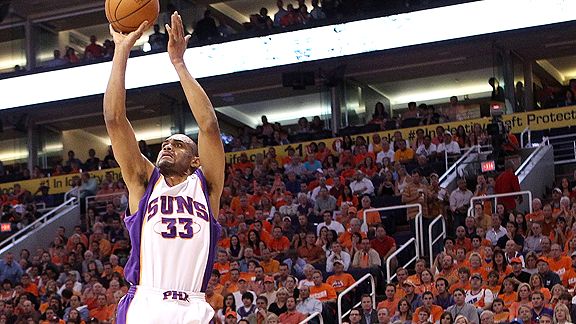 Christian Petersen/Getty Images Sport
Grant Hill was one of several Suns who cooled from long range in the playoffs.
Alvin Gentry and Steve Nash have combined to run one of the very best offenses in NBA history.
But against the Lakers, we now know, it was not quite good enough.
This series will be remembered for all kinds of things -- Kobe Bryant's consistent ability to make insanely difficult shots, the Suns' zone defense, Ron Artest's buzzer beating putback, the Suns' bench.
And there is lots of analysis more important than this one. But it's a hard reality of basketball that sometimes shots just don't go in. And as it happens, in these playoffs many of the Suns' open 3-point shooters -- the teams' bread and butter -- cooled off.
Nobody spreads the floor like Phoenix, a team that covers the floor with 3-point shooters (Nash, Jason Richardson, Grant Hill, Jared Dudley, Channing Frye, Goran Dragic and Leandro Barbosa). That forces defenders away from the basket. Nash and Dragic then dance into the lane with the ball. When they get there, the defense has to decide between leaving an elite shooter alone on the perimeter, or letting the point guards do their damage against single coverage in the lane.
It's hard to stop.
But in these playoffs, with the exception of Richardson, Phoenix's 3-point shooters made things a hair easier than normal for the opposition. In the regular season, Hill and Frye and Nash each made 44% of their 3s. In the postseason, Hill made just 14%, and Frye slipped to 34%, while Nash was slightly down, to 38%. Dudley and Dragic were also down a few percentage points, while Richardson and Barbosa improved.
The Suns still have the best 3-point shooting percentage of any team this postseason, at .386. But if they had managed their regular season rate of .412, that would have meant 27 more points, based on their 365 attempts. (It also likely would have meant more attempts.)
Having 27 points to sprinkle around would have been handy for a team that lost Western Conference finals games by two and eight points.
Would it have been enough to beat the Lakers? Probably not. Los Angeles beat the Suns by a combined 25 points over the six games, and seemed to improve as the pressure mounted in the series' two final games.
Who knows if there is such a thing as a hot or a cold hand. But for some of the Suns' shooters, the misses came in bunches, and at an inopportune time.