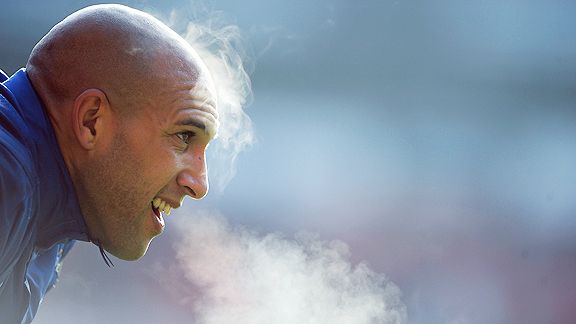 Laurence Griffiths/Getty Images Sport
Goalkeeper Tim Howard -- among the best in the world -- once considered an NBA career.
You may not know it yet, but on Saturday June 12, at 2 p.m. ET, you're very likely to be obsessed with soccer. That's when the U.S. will play England in the World Cup.
Those two teams last faced off in the World Cup in 1950. On that day one of the worst national teams -- the U.S. -- beat one of the best -- England. It didn't make much news here, but the day lives in infamy in Britain, and is generally considered the biggest upset in World Cup history.
In that game, the U.S. star was a goalkeeper: Frank Borghi.
This year, most people judge the American's best player to also be a goalie: Tim Howard.
In fact, while Americans generally have struggled to make their mark on the global soccer scene, American keepers are widely viewed as exceptional. Howard joins Kasey Keller, Brad Friedel and several others in having a successful professional career in Europe.
Hampton Sides writes in the current New Yorker:
For more than a decade, a succession of American-born keepers have competed well in teams throughout the world -- goalkeepers have been the United States' one reliable soccer export. The reasons for this have been widely debated, but they share a central proposition: American athletes know how to use their hands. ("Ever seen an Englishman try to throw a ball? It's worse than 'throwing like a girl,' Kasey Keller, who played in goal for the U.S. national team in two World Cups, says.)
Howard was once an exceptional basketball player, who considered pursuing a professional hoops career, before choosing soccer. Sir Alex Ferguson, the manager of Manchester United, thinks basketball could have something to do with the development of players like Howard.
After Howard was named the English Premier League's Goalkeeper of the Year, Sides reports Ferguson said Americans are "an athletic, agile race ... You see the spring Tim's got. A lot of them play basketball, which possibly helps. And they don't believe they can lose -- that's their upbringing."
Ferguson's talk of race is questionable -- is there an American race? (And if so, is that likely to define the genes of Howard, the son of Hungarian woman and an African-American man?)
I'll discount that part of the explanation of Howard's brilliance. But the part about basketball making you a better goalie -- I buy that.