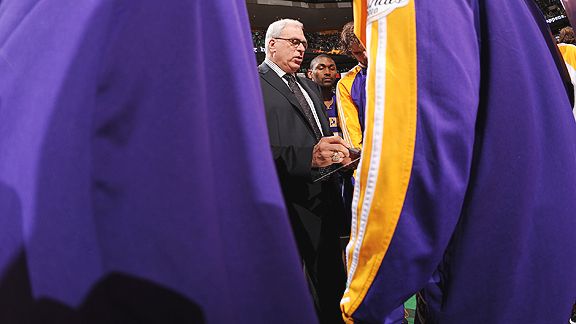 Andrew D. Bernstein/NBAE/Getty Images
Phil Jackson says the Celtics fade late in games, but it's not so in the playoffs.
In a timeout with 1:39 left in Game 5, and his team down eight, Phil Jackson inspired his Laker team by telling them that the Celtics have led the league in giving up fourth quarter leads.
"This team has lost more games in the fourth quarter than anybody in the NBA," Jackson said, in comments that made the ABC broadcast. "They know how to lose in the fourth quarter, all right? They're just showing us that right now."
David Thorpe heard that and said: Not in the playoffs. He just didn't remember seeing the Celtics losing late leads since the regular season.
If we know one thing about Boston, it's that the regular season has not worked well as a way to predict how they'll act in the postseason. If they were playing in the playoffs like they had all year, the Celtics never would have kicked the NBA's two best regular season teams, the Cavaliers and Magic, from the postseason.
I just went through the records. As he made his inspiring team, Jackson was counting on the Celtics to hand back eight points in under two minutes. Since drinking whatever magic tonic has turned them from a regular season also-ran into playoff superstars, Boston has never done anything like that. The 2010 Celtics have had fourth-quarter leads in just three playoff games that they went on to lose, and they were all tiny:
The biggest of those was four points, but it came with a ton of time left: 11:22. And it was way back on April 25 against the Heat. Then Dwyane Wade went crazy, and the Heat won 101-92.

Glen Davis made a layup to put Boston ahead 81-79 with 11:11 left on May 1 against Cleveland -- a game the Celtics lost 101-93.

With 5:33 left on May 24, the Celtics led the Magic 76-74, in a game they lost by four in overtime.
That's the sum total of the leads the Celtics have given up in the fourth quarters of these playoffs.
22 games into the playoffs, any Celtics lead in the final five minutes has led to a victory. Likewise, a lead of five points or bigger has at any time in the fourth has been enough to guarantee victory.
That's not to say the Lakers can't buck the trend. But if you're playing the Celtics expecting them to hand back a lead, and you lack a time machine to go back to the regular season, you could be in for a surprise. In the playoffs, Boston holds leads with the best of them.