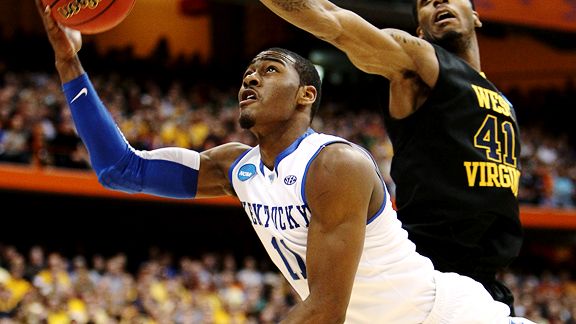 Getty Images Sport/Jim McIsaac
John Wall: Blinding You With Science
In a class deprived of point guards, Kentucky's John Wall emerged early on as the undisputed No. 1 pick in the 2010 NBA draft. It's the second consecutive season the basketball world has rallied around a supernova whose on-court charisma and transcendent talent have the potential to transform a beleaguered franchise. Wall displayed his artistry at Rupp Arena, leading a Kentucky squad with as much NBA-primed talent as any team since the 2006-07 Florida Gators national championship team.
Can athleticism like Wall's be classified as artistry or science? Delineating between the two has always been one of the more interesting conceptual debates in sports. ESPN's "Sports Science" put Wall to the test, and here are some of the startling results:
For a glimpse of that Nashian court vision, watch this:
Truth About It's Kyle Weidie attended Wall's workout for the Wizards. Weidie marveled at Wall's strength, commanding personality and recognition of his limitations, Like most underclassman -- even presumptive No. 1 picks -- Wall isn't without his shortcomings. Weidie described Wall's jumper as "almost painful to watch."
[A] lot about Wall's jumper looks uncomfortable … release point, jump timing, balance. Here in Washington we've had Buzz Braman and Dave Hopla … wonder what crack shooting instructor is next?
The jump shot needs work, which isn't unusual for a young point guard, but Wall's oeuvre of dunks actually compelled someone to create a website called johnwalldunks.com. Not surprisingly, Wall's exuberance translates into a rare strain of confidence. During his post-workout press conference at the Verizon Center, Wall issued a direct challenge to President Barack Obama:
Hopefully I'll get picked by the Wizards," Wall said, "and if I do, yeah I want [Obama] to come to the games, but before that, I want to play him in that game of horse. I challenged him to a game of one-on-one and horse, but as the president, I guess he backed down. He didn't want to play, so I'll convince him into that first and then invite him to some games.
Will Wall's power of persuasion bring the leader of the free world to the executive hardwood?
Wall has accumulated an intriguing range of associations. In December, Brian Windhorst wrote about the budding friendship between Wall and LeBron James. Despite early reports that Wall would likely sign with James' marketing firm LRMR, that agreement never materialized. Though James is represented by Leon Rose at Creative Artists Agency, Wall ultimately signed with Dan Fegan. In early June, Wall agreed to a 5-year, $25 million deal with Reebok.
Wall doesn't arrive to the NBA with an unblemished off-the-court record. Just two weeks before he signed a letter of intent to play at Kentucky, Wall was charged with misdemeanor breaking and entering when he and a couple of friends broke into a vacant home in Raleigh, N.C. Wall pleaded guilty to the charge on May 27, 2009, and had to complete 75 hours of community service and cover court costs as a condition of the plea.
Dynamic point guards are enjoying a renaissance in the present-day NBA. Wall -- with his vision, explosiveness and competitiveness -- personifies that movement. What kind of role does Wall expect to play in the league?
"An All-Star. The franchise guy for my team."