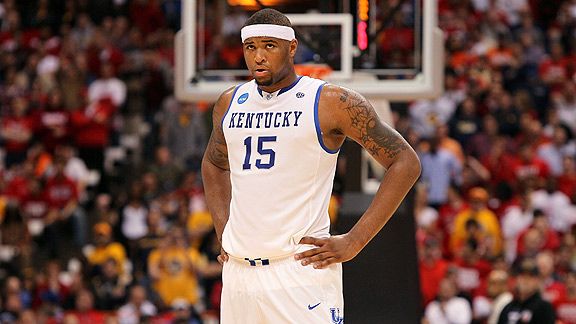 Getty Images Sport/Jim McIsaac
DeMarcus Cousins: "Throughout this whole draft process the only person getting the negatives -- I'll say the most negatives -- is me."
Every June there's at least one player whose skill set must be balanced against his impulses. This year, DeMarcus Cousins is that guy. On the court, Cousins has the full range of skills the NBA wants from its big men. Despite carrying nearly 300 pounds on his 6-foot-11 frame, Cousins can run the floor and his fundamentals in the post are solid. His soft hands and forceful presence allow him to catch and finish deep in the paint. When the ball goes up from the perimeter, Cousins throws his weight around underneath and corrals rebounds with ease. In short, there's nothing particularly raw about Cousins' talent. His game is incredibly evolved for a big man with only a single season of college experience.
John Hollinger's well-tuned draft rater projects Cousins as the best NBA player in this class:
[T]here is one prospect who rates as an A-list talent, a freshman from the University of Kentucky named …

DeMarcus Cousins.

You were expecting somebody else?

Cousins has the fifth-highest rating in the Draft Rater's nine seasons evaluated. (The Draft Rater goes back to 2002, as college data from before that year are too spotty to use.)

Based on that, the outlook for Cousins is quite positive. Of the eight previous players from 2002 to 2008 to rate 15.0 or higher, four became superstars: Durant, Carmelo Anthony, Dwyane Wade and Chris Paul. Of the other four, three have been very productive starters -- Rudy Gay, Luol Deng and Drew Gooden -- and one became, well, Mike Conley. We had another three last year, and from that trio, one was awesome (Tyreke Evans), one was good (Ty Lawson) and one didn't play a game (Blake Griffin).

Cousins won't be the first pick because of questions about his character and coachability, and those are legitimate concerns. But there's no doubting his elite talent level.
Now about those questions...
In addition to carrying a higher percentage of body fat than ideal for a starting NBA center, Cousins' exuberance occasionally teeters on the brink of self-destruction. Less than a minute into a game against Louisville in which Cousins racked up 18 points and 18 rebounds, Cousins swung his forearm into the head of Louisville's Jared Swopshire while the two were battling on the floor for a loose ball. Cousins got off easy with a technical, but the incident brought into focus both Cousins' intensity and his lack of judgment on the floor. CBSSports.com's Gary Parrish's described the tricky balance:
The biggest threat to Kentucky's national title hopes is that DeMarcus Cousins seems a little unbalanced and capable of snapping at any time. Or, as Louisville's Edgar Sosa reportedly put it after the game, Cousins is a "nutcase." The guy is capable of getting 20 and 15 in the Final Four against Kansas or of throwing a punch at Sherron Collins before the first media timeout.

Cousins almost always looks angry, almost always looks like he's ready to lose it. And though that is at least partly why he's a dominating force in the paint, it's also why Calipari would be wise not to count on Cousins consistently being type of factor he was against Louisville.

"You see DeMarcus get fouled hard, and he gets up and he's ready to fight," said freshman teammate John Wall, who started slow against the Cards but finished with 17 points, four assists and two steals. "People are going to start judging him not just by how he plays, but by how he handles himself on the court."

Actually, that's already happening. Every NBA scout I've spoken with in the past month insists Wall will be the No. 1 pick in June's draft, regardless of which team gets that pick, but that the second spot remains up for grabs. Could be Derrick Favors or Evan Turner, Al-Farouq Aminu or Xavier Henry. But based on talent and physical gifts, it ought to be DeMarcus Cousins, a 6-foot-11, 270-pound forward with an NBA-ready body. When he's focused, Cousins is college basketball's best big man. But when he loses focus, he's the sulking giant with an attitude problem on the verge of doing something stupid and costly, and there's no good way to predict which version will emerge in any given game.
Ian Thomsen of Sports Illustrated spoke to a few NBA scouts this week about the rap on Cousins -- and reported those findings back to Cousins:
Cousins can play power forward, but for most teams in this size-hungry era he would be slotted at center. As for his position in the draft, that will depend on how teams view the lingering questions about his emotional maturity and temper.

"I've seen big mood swings from him," said a longtime scout whose team is not in the lottery.

Other teams wonder if Cousins is prepared to make the leap to the NBA, where he will have to be self-sufficient in ways that he has yet to experience.

"He doesn't have a driver's license,'' said an executive from a team that is picking in the lottery. "That's a little thing, but it's also a huge thing. Whoever picks him is going to have to build a big force field around him. You wonder about him being able to stand on his own two feet, and now you add the fact he's about to get a ton of money and publicity -- and you think that's going to make him work harder?"

And yet, as the same executive points out, any team that has an opportunity to pick Cousins at No. 4, 5 or 6 -- whether it's Minnesota, Sacramento, Golden State or a team that trades into one of those spots -- will have a difficult time passing on his talent.

"I'm the bad guy," said Cousins, who despite his reputation is quick to smile and was popular with fans and reporters at Kentucky. "Throughout this whole draft process the only person getting the negatives -- I'll say the most negatives -- is me."

Why has he become the lightning rod?

"I have no clue," Cousins said.
Before we label Cousins as clueless, there's one thing to remember: Cousins is only 19 years old, a reality that Joey of FreeDarko ponders:
As his giant right hand swallows yours in a handshake; as his stoic expression makes you wonder if the not-so-quiet whisper campaign about his attitude has some merit; as his sheepish posture while ambling around the store suggests that he may not be ready for what awaits him, you realize that this still is a kid. Not even the most thoughtful, measured, detailed Draft analysis serves as an adequate substitute for meeting the players, for seeing them in person.

The mere nature of reading about a Cousins or a John Wall on a blog, to say nothing of The New York Times' website, removes a player from everyday experience and elevates him as a celebrity. In turn, he is dehumanized ever so slightly. They all are. The process is only exacerbated as Draft conversations steal these children from our everyday vocabulary and insert them into the nonce lexicon of the NBA. No one describes his friends as long, questions a coworker for his sticktoittiveness, or wishes that his dad were more coachable. And similarly, no one ever says that DeMarcus Cousins has an innocent smile or is incredibly polite.

He does, and he is, though.
How immutable are the flaws of a teenager?
Watch this space.