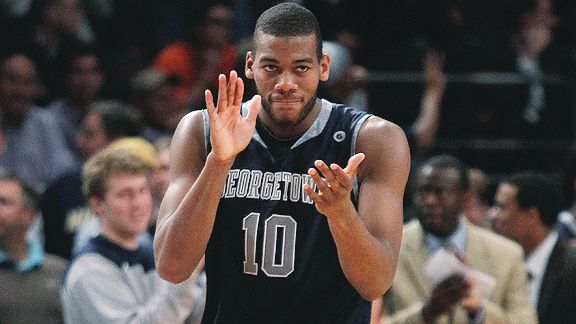 Getty Images Sport/Michael Heiman
Greg Monroe: The most complete big man in the 2010 draft class?
NBA executives are notoriously coy in the days leading up to the draft. As a smokescreen, a general manager will praise one prospect while feigning indifference about another. But it wasn't lost on those present when the topic of Georgetown big man Greg Monroe came up at Golden State Warriors' GM Larry Riley's press conference last week:
-RILEY: There's some guys that may not look as great as you watch them play, but they have such a skill that they facilitate things for everyone else. Greg Monroe is one of those guys.

Greg Monroe is the best passer in college basketball. He makes people better around him.

-Q: Best passing big man? Or best passer no matter the position?

-RILEY: Yep. In college basketball. I don't care who you're talking about. Now John Wall was great, let's don't take that away from him. John Wall puts the ball right in people's hands. But I'll tell you what, Greg Monroe makes people better around him. You don't see many big guys who facilitate or who help other people.

Similar to what Bill Walton did as a high-post player.
Here's an illustration of what Riley is talking about:
The operative phrase in the narration above is, "He sees this play before it occurs." That's the hallmark of a skilled big man -- acute court vision and a willingness to move the ball to the right spot on the court. If you watch film of Monroe's two seasons at Georgetown and this sort of playmaking pops up routinely.
Here's another piece of eye candy. Follow Monroe out on the right wing:
Monroe passes the ball from the perimeter (twice), times his dive perfectly when the defense shifts low, catches the ball on the move, then delivers a no-look touch pass to his open teammate along the baseline!
There's an unfortunate tendency to classify bigs like Monroe who spend much of their time along the perimeter or in the high post facilitating the offense as "finesse players," and somewhere along the way, Monroe got tarred with that brush. He wasn't a bruiser, a guy who could perform the more manual tasks of being an NBA big man.
To measure the firmness of Monroe's resolve in the paint, Fanhouse's Tom Ziller took a look at the center's rebounding numbers:
One of the ways to resolve such questions is by looking at defensive rebounding. For big men, rebounding is a central defensive responsibility. If you're paper-thin but can rebound defensively, you're of value. If you're built like a truck and can't rebound defensively, that's a problem. Results, production -- that's what matters. Not the look on your face or the size of your bicep. When we talk about "soft" big men, we're really talking about big men who can't rebound or defend in the paint.

Monroe was the 26th best defensive rebounder in college this season, up from 430th last year. The only likely first-round pick with a better defensive rebounding rate than Monroe was Cole Aldrich at 25.7 percent versus Monroe's 25.2. (That's an extra rebound for Aldrich every 200 opponent misses.) The only second-round prospects higher than Monroe are Morehead State's Kenneth Faried (tops in the nation at 36.7 percent) and Keith Benson of Oakland (26). Monroe was a better defensive rebounder this season than DeMarcus Cousins, Ekpe Udoh, Hassan Whiteside, Patrick Patterson, Derrick Favors, Gani Lawal, Larry Sanders, Ed Davis -- all of 'em.
Does Monroe have Cousins' explosiveness and strut? Not a chance. Does he have Favors' preternatural athleticism? Probably not. But any NBA team that's sincerely interested in building a system predicated on ball movement, versatile skill sets and selflessness will be fortunate to land Monroe as a tent pole of their offense.
Want a more expansive view of Monroe's selflessness? Read this tremendous feature by Adam Himmelsbach of the New York Times, which documents how Monroe, his mom Norma and sister Brittany coped with the devastation when Hurricane Katrina hit their hometown:
The Monroe family's home sits in the West Bank section of Jefferson Parish, where many buildings sustained wind damage but avoided the most serious flooding caused by levee breaks. Of course, many others in greater New Orleans fared much worse.

Norma took in a co-worker and her two daughters and the daughter of another co-worker. Their houses had been ravaged. Greg was the lone man in a house with six women, and Norma said he took the role seriously. He hammered nails and cut the grass. He took out the trash and made sure everyone made it home safely each night.

In his last three years at Helen Cox High School, Monroe helped rebuild the community through basketball. Mouzon said the high school did not have an extensive athletic budget, especially after the hurricane. But Monroe was such a highly rated recruit that his team secured a sponsorship with Nike, which provided uniforms and sneakers and warm-up suits. Monroe and his teammates also washed cars and sold concessions at New Orleans Saints games to raise money for their school's athletic department.

"You won't find many of the top-rated high school players in the country making hot dogs to help with fund-raising," Mouzon said. "Greg's very loyal to his team and his community."

And the feeling is mutual. When Georgetown opened this season at Fogelman Arena in New Orleans against Tulane, Monroe's church purchased 50 tickets for its youth department. He had 18 points and 11 rebounds.

Norma Monroe said her son was looking forward to the day he could give back to his hometown. After Greg was named the Big East's rookie of the year last season, he considered entering the N.B.A. draft, where he would probably have been a first-round pick.

Each day at practice, he sees the framed N.B.A. jerseys of former Georgetown players that hang in the team's gymnasium, like ghosts of Hoyas past. He thinks about the day his jersey will join the others.

He also thinks about his mother, who still works at the post office and as an elementary school teacher's aide, still helps run the concessions stand at some of the Helen Cox basketball games, and lives in the same house that survived Katrina.
Personal biography is not something we always take into account when we we're looking at well-roundedness. In Monroe's case, there's plenty to draw from when we're considering whether he's a complete player.