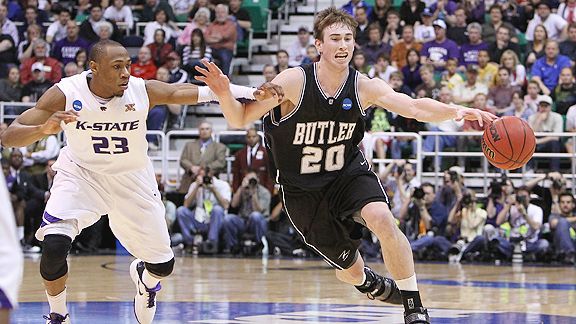 Getty Images Sport/Christian Petersen
Gordon Hayward: Jimmy Chitwood was almost Jimmy Connors.
Every kid with a hoop in their driveway has imagined themselves in a situation similar to the one Gordon Hayward improbably found himself in just a few months ago: Down two, just a few seconds to go, the chance to be the real life Jimmy Chitwood at stake and a National Championship on the line. One shot, one miraculous shot, and everything changes. How close was Hayward to forever being etched in basketball lore? Inches.
The fact that Butler, led by the frail-framed Hayward, was just inches away from a National Championship seems crazy. But what's crazier is that Hayward was once inches away from giving up basketball altogether. Marlen Garcia of USA Today tells the story:
"The funny thing is after his freshman year of high school, Hayward nearly gave up basketball.

His parents say he prepared a speech to tell his coach he would stop playing to focus on tennis. He stood 5-11 then and figured he would be too short to play basketball in college.

His mom, Jody, says she told him to give basketball more time. He shot up to 6-8 by his senior year, a surprise because both parents are 5-10. And he capped Brownsburg High's season with a buzzer-beating layup for a state championship in Class 4A."
The late growth spurt saved Hayward's career, but it also shaped his game. Hayward spent years playing guard because of his lack of height, but once he shot up, he retained all the skills he honed as a smaller player. Hayward fits the mold of the elusive point-forward, but in a more organic sense than most. He's not a tall guy with some guard skills -- he's a guard who just happens to be tall. Hayward's court vision and playmaking off the dribble help make him what he is, but he's also an underrated athlete as well.
Thanks to those days out on the tennis court, Hayward's pretty good at moving laterally and possesses a certain bounce in his jump most players don't have. In the pre-draft combine Hayward showed off that bounce with a 30.5-inch no-step vertical jump, which bested the likes of Evan Turner and John Wall.
Although he had always been a good athlete with nice skills, it was hard to predict Hayward's rise to prominence. Mark Titus, he of club trillion fame, sat down with Thayer Evans of the New York Times to talk about Hayward.
"Titus, a senior guard at Ohio State who played with Hayward at Brownsburg High, recalled being shocked when friends started to call him with tales of his former teammate dunking on opponents. Until then, he had remembered Hayward as a spot-up shooter who was too diminutive to drive to the basket.

"I just couldn't believe it," Titus said in a telephone interview. "I still don't believe it. Even when I watch him now, it's just like, that can't be the same kid out there."'
Hayward had always dreamed of playing in the NBA, but his journey to becoming a top prospect has been filled with oddities. Usually the recruiting of a big time high school basketball player is all about how to convince them they'll be able to the League, but Hayward's recruiting had as much to do with his own career as it did with his twin sister Heather.
The inseperable siblings wanted to remain together in college, and luckily for Butler coach Brad Stevens, Butler suited the both of them the best. Heather could play tennis and receive an academic scholarship while Gordon's computer engineering classes (not your typical NBA-bound major, eh?) wouldn't interrupt with basketball practice like it would at other schools. It was a match made in heaven when the underdog school signed the local boy who basically came out of nowhere.
It's been a strange journey for Hayward, one filled with near makes and misses alike, but now he'll have his chance at fulfilling that other popular driveway fantasy: Playing in the NBA.