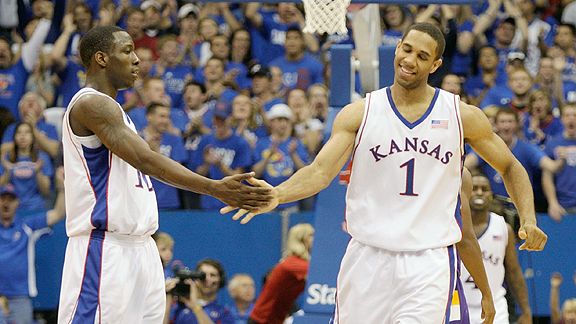 Getty Images Sport/Jamie Squire
Xavier Henry (right): Just don't call him a sleeper.
Xavier Henry is a sleeper in this draft, but not in the conventional sense. Usually sleepers come from tiny schools or from remote locations across the globe and can actually benefit from the mystery surrounding them and a lack of exposure. But Henry went to Kansas, one of the biggest basketball programs in the nation. Sleepers often times have amazing size or off the charts athletic ability. But Henry is 6-foot-6 and a good, but not great, athlete. So why is Xavier Henry a sleeper, exactly?
Like ESPN's Chad Ford said, it's because so many people have concluded that Henry is a solid player, that now most everyone has moved him aside while they search for the next superstar. Call it the Joe Johnson effect. Dime magazine's Austin Burton explains:
"Joe Johnson didn't put up numbers in college that advertised he'd be a future All-Star. In his sophomore year at Arkansas he averaged 14.2 points, 6.4 rebounds, 2.6 assists and 1.4 steals. At Kansas, Henry was good for 13.4 points, 4.4 boards, 1.5 dimes and 1.5 steals a night at the two-guard spot. Were you expecting more from an All-Everything high schooler who was the prize in a recruiting war between the Jayhawks, Kentucky and Memphis? Consider that Henry played next to a pair of star upperclassmen — point guard Sherron Collins and center Cole Aldrich — on a deep KU squad where four guys averaged double-figure scoring.

So why is he a Lottery pick? Because in the NBA Draft, talent always supersedes stats. Henry needs to work on his handle in order to be a true three-position threat like Johnson, but his lefty shooting stroke is good from NBA three range, and he can make a living muscling defenders to create space for mid-range J's and floaters. Beyond the pro-ready frame, he's got pro-ready game."
While it's a convincing argument, the general consensus among scouts is that Henry will be a solid player, but his lack of potential will keep him from being a star. Jonathon Givony of DraftExpress thinks Henry has "role-player potential" but wonders if Henry might be a little too "one-dimensional." These sentiments, on top of a concern for Henry's lack of lateral quickness, have been echoed by many.
There's just something about the way Henry plays the game that screams Robin instead of Batman. Sure, Henry can throw down an exciting dunk every now and then or get up for a big block, but the majority of on-court action seen from Henry has been in a complimentary role, primarily as a spot-up shooter. The 19-year old knocked that role out of the park in his first year in Kansas, moving without the ball well and hitting open jumpers that were created for him. But the question remains: Can Henry create for himself?
In an interview with Brandon Chatmon of Newsok.com, Henry addressed the questions surrounding his game leading up to pre-draft workouts:
"That was the first time (in my life) they started (questioning my ability)," Henry said. "My confidence wasn't shaken, I just had to go out and prove them wrong."

"It got under my skin a little bit," he said. "It wasn't that I couldn't do it, I just didn't have to do it on a team with two All-Americans (Sherron Collins and Cole Aldrich).

"I knew when I got to this point in the process, where I could show my own game, I'd be just fine."
Henry showed off his smooth lefty stroke, his court awareness on both ends of the court, and his NBA-ready body at Kansas and in workouts leading up to the draft. Now we'll just have to wait and see what he has in store for us next.