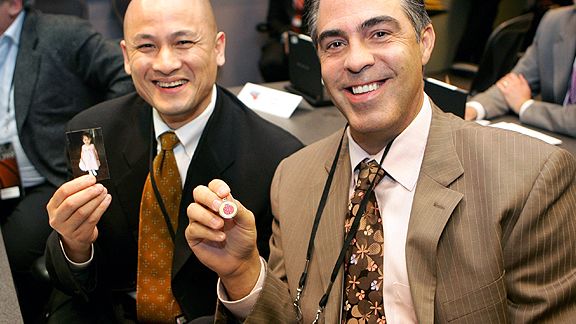 Ned Dishman/NBAE via Getty Images
Rich Cho and Kevin Pritchard at the 2007 draft lottery. Cho will now succeed Pritchard in Portland.
The Portland Trail Blazers' new general manager, Rich Cho, has not been in the media much, in no small part because the Oklahoma City Thunder are right there with the San Antonio Spurs in being true believers in the religion of playing your cards close to your chest.
So, while there is not much of a public record of his work to dig through, here is some of what we now:
Off the top of my head, I can see four key skills for a GM: Evaluate talent, communicate with the media, master the issues that go into making deals (CBA, legalese), and increasingly do some kind of global analysis that lets you find players who are good value. Kevin Pritchard got the job because of his proven mastery of the first two. Cho is, by reputation, almost the opposite. He's known for his proven mastery of the second two. In addition to being a CBA expert and a quantitative analyst, is he one of those rare few who can watch a workout and know "that's our guy?" Similarly, can he get a city excited about a team? "To be determined" on both counts. I haven't heard him described like that. And as you know he does not have a lot of experience with the media. But people around the league talk about his extraordinary work ethic and preparation. Free agency, the draft, valuing players -- the Thunder are prepared for everything and this man is no small part of the reason why.

Sources with knowledge of the process insist that the key decision was Paul Allen's. That might sound obvious, but that's not how it works on every team. After interviewing with team president Larry Miller in Las Vegas last week, Cho flew to Helsinki, Finland, where Allen's yacht, the Octopus, has been moored. That yacht is worth discussing further. It says here that some of the dozens of staffers on that boat are former Navy seals. And it has its own yellow submarine, two helicopters, a swimming pool, a basketball court, a bar you can swim up to from the ocean when the door's open, and all kinds of smaller boats and jet skis stashed here and there. Spend some time with Google looking at photos of this yacht, and I think you'll agree that there has never been any setting on the planet better designed to house a bad guy in a James Bond movie.

In 2007, Pritchard and Cho represented their teams -- the Blazers and Sonics, respectively -- in the room with the pingpong balls at the draft lottery. They came in first and second. The Blazers selected Greg Oden and the Sonics (now Thunder) took Kevin Durant. Cho will be the first person really to live on both sides of Portland's decision to take the oft-injured Oden first.

Cho and his former boss, and Thunder GM, Sam Presti are two smart guys who got into the NBA the hard way: as interns. There's a doggedness to their commitment -- all those years of proving themselves, in a world where former players and big names move to the front of the line, commands respect. Cho quit his job at Boeing, a aerospace and defense corporation, to go to law school before signing up with the Sonics, simply because he knew lots of sports executives had law degrees.

I met Cho once, at the draft lottery. He seemed very nice, and amazed me by remembering some nuance of something or other that had been on TrueHoop a few days earlier. Honestly, I wrote it, and I could barely remember the post at all. He read it and was all over the finest detail. When people have brains that do things mine can't I generally just start telling people that they're obviously really smart. So ... Rich Cho is obviously really smart.

In support of that last point, consider these few sentences from his Thunder biography, which reminds me a little of the legendary admissions essay of one of my college classmates: "Cho is responsible for contract negotiations, salary cap and Collective Bargaining Agreement matters, player contracts and all player personnel issues. Cho has also served as the team's director of basketball affairs (1997-2000) and vice president of legal (2005-07). As an attorney with experience on both the team and agent sides of professional sports, Cho calls upon his diverse skill set to aide the Thunder management staff. He also helped design and implement one of the NBA's most advanced and comprehensive college and professional player-evaluation systems. A member of the Washington State Bar, Cho is a graduate of the Pepperdine University School of Law with an emphasis in sports law, contract negotiations and dispute resolution. Prior to attending law school, Cho earned his engineering degree from Washington State University and worked as an engineer at Boeing in Seattle for five years."

Given the soap opera in Portland's front office over the last few months, Cho's law school focus on "dispute resolution" could prove to be the most valuable element in his time in Portland.

Nate McMillan worked with Cho in Seattle, and knows him well. The two say they ate sushi and played pingpong together more than once. Cho says McMillan is a better coach than pingpong player.

In a press conference, Cho says that he thinks the current Blazer roster is "a couple of pieces" away from a title, and he hopes to get those pieces.