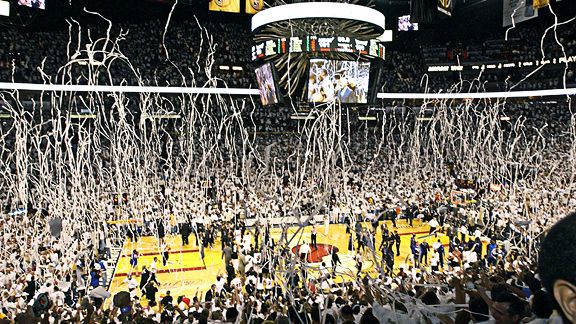 Randy Belice/NBAE via Getty Images
Miami, Florida: A hoops mecca or a bandwagon?
What kind of basketball city is Miami?
Last week, Henry Abbott put out a call for submissions in an effort to answer this question. We wanted to hear from locals who have been season ticket holders since the Heat's inaugural season in 1988, from transplants who carried their love affair with the Knicks and Celtics down to south Florida and from anyone who has a sound theory about what ingredients go into the making of a basketball town.
We received dozens of emails that touched on the unique collection of demographic, economic and social factors that govern the sports landscape in Miami. Surya Fernandez of Hot Hot Hoops has delved into a lot of this.
Most agreed with Christian Santiago that loyalty isn't an intrinsic value to south Floridians. But, as Santiago points out, loyalty between fan and team is complicated, nuanced stuff:
Miami is the geographic incarnate of the new Tom Sawyer. We have no loyalty to any god, government, sport, or team. The sycophantic fickle fans of South Florida couldn't locate the word "loyalty" in the dictionary. If the citizens of this town participated in a reality TV role play of the Oregon Trail, the wagon would burn before it reached Ft. Lauderdale. As a life long member of this fine community, I can say that few of us are willing to give our allegiance to a loser. However, things may be different this time. You see this is the first time in a long time that someone builds a team with a foundation. The Heat and the Marlins are the recent teams to bring prosperity to our city, and in all three cases, (the Fish won two World Series) the teams were built to "Win Now." Within two years there was nothing left but the skeleton frame of rebuilding.

This time around, the fans will stick like leeches because there is a legitimate chance of a dynasty. Dan Le Batard said we don't deserve this team. I have to agree. But for those of us who were true fans through thick and thin, this is a better afterlife than a million virgins and rivers of wine and honey. It's like winning the lottery. People will either spite you out of envy, or pucker up in search of gold. The fans, like the invisible hand that guides society, will sell out the triple-A despite the varied purity of their motives. For better or worse, it will still benefit the team. If the Heat wins like everyone expects, the arena will erupt with passion and love. If there's one thing this town craves, it's an excuse to party, and with the South Beach Armada in sight, they will party the night away wearing D-Wade, Chris Bosh, and LeBron James jerseys.
Some, like Ben Batory, offer pithy explanations:
It's simply a mismatch of sport and culture. Those who care (the local Miamians...) just don't know. Sure, they enjoy the spectacle and the result, but the nuances of the game are totally lost on them. Those who know (the transplants from the northeast and elsewhere) just don't care. They might get the subtle stuff, but they came here for other things.
Back in late March, I discussed Atlanta's reputation as a lackluster sports town. Many of the issues that surround Atlanta apply to Miami. Both are transient sun-belt cities that have relatively young histories in the realm of pro sports, as Travis Lund writes:
I believe the start of any great fan base or sports culture comes out of tradition. You grow up watching your team with your folks. You learn, before you can form a complete sentence, to love that team passionately, and to hate their rivals with equal passion. To qualify, a team must A. have existed long enough to have at least one legitimate passing of the fandom torch; an adult generation that imbues its children with fanatical sports devotion from the cradle. Fans come in all shapes, sizes, and levels of commitment, but the core of any good sports culture stems from those children. In Miami's case, the Heat formed in 1988, so we haven't really had enough time for a generation to fall in love with the team, have kids, and through parental osmosis, instill the same love in their children.

Corollary: these people need to stay in town. Sure, you can raise your kids to love the teams of your youth, but it's a tougher endeavor if you're vying for their attentions with whatever teams reside in your current city. Native sons and daughters make better fans because they have local media, billboards, etc. reinforcing their fandom. Atlanta (and I suspect Miami) is not a great sports town because so much of the population are transplants, so the next generation is never made up of quite enough diehards from birth to sustain this kind of love. Corollary number two: If the team hasn't been around long enough to experience fan inheritance, there's a decent chance they also haven't been around long enough to build up a real rivalry, which, to an extent, negates some of the fun of loving a team. Every great narrative needs a villain.
I like Cory Brandfon's response, which dovetails with Lund's comments, but parses the generational component a little further:
Miami is a young person's basketball town. Anyone familiar with professional sports in South Florida can tell you that the culture throughout the mid to late 90's (the end of the Dan Marino lull) was focused around the Miami Heat. The buzz amongst sports fans focused on the arrival of coach Riley as well as the success experienced by the exciting duo of Alonzo Mourning and Tim Hardaway. Many of the greatest Heat memories from that time are, of course, related to the well-publicized battles with the bigger and much badder New York Knicks. For a time, Miami sports fans followed the Dolphins, but cheered for the Heat, and the excitement surrounding the latter was palpable. I distinctly remember a watch party that I was attending when Allan Houston's runner let the collective air out of the basketball bubble in South Florida. The success of the Heat and the rise of basketball in the area at the time however should not be overlooked ...

... Any sports fan can tell you however, that a young crowd, especially in the NBA, won't fill up an arena. It wasn't until 2006 when the Heat made their Championship run on the back of a recognizable star in Shaquille O'Neal, and the highly touted talent of youngster Dwyane Wade that the older sports fans dished out the money to fill the arena on a consistent basis, and with them came the younger fans.

Now the young fans that grew up admiring those legendary Heat-Knicks battles form the nucleus of the fan base. We are all hoping that our patience the last 4 seasons, during which we had the undeniable privilege of watching all-world guard Dwyane Wade take on teams by himself, will be rewarded.
Many e-mailers, like Brandon Resnick, cited the economic downturn in recent years as a deterrent. No region in the nation has born the brunt of the current recession more than south Florida:
Another issue hampering support for these franchises is that finally my generation has enough disposable income to support the team, and most of the people I know have left the area. The economy in South Florida has lead the recession along with California and that has definitely caused the younger generations to flee in search of better opportunities.
A number of south Floridians who responded maintain that the Miami Dolphins' (and college football's Miami Hurricanes) historic success, longevity and supremacy among the constellation of sports teams somehow preclude the city from becoming a basketball town, but that's a somewhat apocryphal explanation. For one, plenty of cities have enough love to go around for multiple teams. Boston manages a rabid loyalty to all four of its pro teams. Though you can probably assign rankings to Chicago's affinity for its pro franchises, the Bears, Cubs, White Sox, Bulls and Hawks are beloved by large swaths of the population.
Carlos Gimenez gets into this dynamic, referencing Dan Le Batard's comment that Miami is an "event town" above all else:
See, all the talk about Miami being a football town, or any other town, fails to recognize the truth. Miami is an event town pure and simple. The regular season games, no matter the sport, have a tough time selling out, unless it is an "event game." Unless the Dolphins are playing the Jets, Patriots, Bills, within division, or a marquee team, forget it, some local TV station is going to have to buy the rest of the tickets to avoid a blackout. Same thing with the 'Canes. If it's not UF or FSU, don't count on a sellout. We didn't even have a sell out for the Oklahoma game last year ...

... Some, following the "Decision" said that Miami does not deserve a basketball team because the fans are fickle. To that, I say so what? I like fans that demand their teams not only perform well, but put a show on in the process. We are fickle fans because we demand excellence. We were spoiled into demanding excellence. 1972, Dolphins Perfect Season. The U has won five National Titles (actually six if you include the Fiasco Bowl), and have been undefeated three times in the process. The Heat has won a title, one of eight franchises to win a title in the last 30 years. Even the Marlins have won the World Series every time they have been to the playoffs (twice).

That being said, Miami is not a football town, or a baseball town, or a BASKETBALL TOWN, we are an EVENT Town, and there will be no better event than every single Heat home or away game this year!
Gimenez's conclusion holds a lot of weight, but I'd go even further.
Miami might not have been a basketball town over the past 22 years.
But it is now.