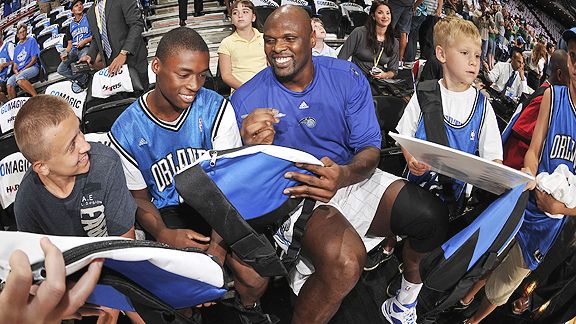 Fernando Medina/NBAE/Getty Images
Adonal Foyle reads all kinds of things, but recommends everyone read Ayn Rand.
This week on TrueHoop, several NBA personalities will weigh in with some book recommendations. Here's the first installment:
Adonal Foyle
Free agent center and NBA Players' Association vice president
The recommendation: The Fountainhead, by Ayn Rand
The reason: When I read, I want to be challenged in many ways, no matter the subject matter, and I read the whole genre of books ranging from comedy to non-fiction. One of the most compelling books I've read is "The Fountainhead." Ayn Rand takes you on a tour that challenges your view of life, beauty and what you hold to be your true ideals. It's a book that rocks the very foundation of what you think. Howard Roark, the main character, is eccentric, idiosyncratic and arrogant, but also certain and intriguing. The book is about standing alone in defense of your ideals and finding truth when everyone else is telling you that it's wrong. It's about his being willing to pay the ultimate prices -- seclusion and poverty -- to fulfill his version of beauty. It's an oldie (published in 1943) but has stood the test of time and will move you and frustrate you but ultimately inspire you to find your true self.
This book is required reading for: those who enjoy a challenge and those who like to think and be moved by a different perspective.
This book is not for: the faint-hearted!
---
Dean Oliver
Denver Nuggets' director of quantitative analysis and author of "Basketball on Paper"
The recommendation: Guns Germs and Steel, by Jared Diamond
The reason: All those years in school learning history by memorization, all those years being told that history was made by unique people, this book completely changed my perspective. History gets formed in part by the natural geography and natural history that unique people live in. It still does take people to do things, but their motivations and tools are so strongly shaped by their environment (and the timing of being in that environment) that this books tells a much more complete story. I actually read this (the first time, that is) while writing "Basketball on Paper" and it inspired some broad explanations of basketball. As much as I love certain science-fiction books for their ability to create a rich and interesting world, this book is about how our own rich and interesting world was actually created.
This book is required reading for: Anyone who wants more than the political angle for why the world changes. I really wish this had been the textbook for my high school history courses. History makes a lot more sense to any student after reading this.
This book is not: Some criticism of this book has been that it overlooks the impact of human decisions on history. That is, I think, true. But if you are balanced by the typical world view of history, the criticism is hollow. As mentioned above, this book should make you think, not accept everything. So, as much as I enjoyed it and it filled many knowledge gaps, it is NOT the complete history of the world.
---
Dwane Casey
Dallas Mavericks assistant coach
The recommendation: The Art of War, by Sun Tzu
The Reason: It's a book that you can relate to sports and life! Sun Tzu teaches how to command an operation with the utmost efficiency and effectiveness. He teaches different strategies based on the foe or situations you are facing! He teaches a balanced perspective between Defense and Offense! Like in a game, "preparation" is a must and you have to know the opponents weaknesses and how to exploit them! He also offers a great perspective on picking the right people for the right jobs and utilizing their combined knowledge and energy to WIN!
The book talks about the importance of laying plans, the use of energy, maneuvering (adjustments), the use of spies (scouts)!
The book is required reading for: Coaches, business people, strategists, parents and anyone preparing for competitive battle! The same issues and obstacles they faced 2,500 years ago when it was first written can be compared to today! It's timeless! It will leave a lasting impression of discipline and achieving goals!
This book is not: for you if you are not a history buff or a true competitor!
---
David Thorpe
Analyst for ESPN.com's Scouts Inc. and executive director of the Pro Training Center in Tampa
The recommendation: The Little Red Book by Harvey Penick
The reason: Few books, regardless of the topic, inspire people to be better human beings-and succeed. This book does. It's so far from just being a book about golf. Sure, there are fantastic and specific golf lessons in there, dozens of them. But there are far more anecdotes about things that helped me strive to be more decent to people, and more humble in my daily interactions with everyone I come across. If every political leader read this book once a year, we'd all be better off. I love how Coach Penick spoke so directly to his pupils, and his friends. There is nothing stupid about being "plain-spoken," and this book proves that. It would be hard for me to believe that after reading this book a few times, you would not use some of its lessons when dealing with your own child, in your home or on any competitive playing field. Perhaps my favorite thing about his teaching style is that he tries not to overcoach, and that he treats every student uniquely. As a coach and a dad, it helps to guide me daily. I get inspired to love my students as much as he so obviously loved his.
This book is required reading for: Parents, teachers, coaches, and sports enthusiasts in or out of the golf world. And me, once every year for 15 years straight.
This book is not: Just for golf lovers. And it's not alone on the bookshelves either. He wrote many follow-ups, similar in most respects but unique enough to be read multiple times as well.