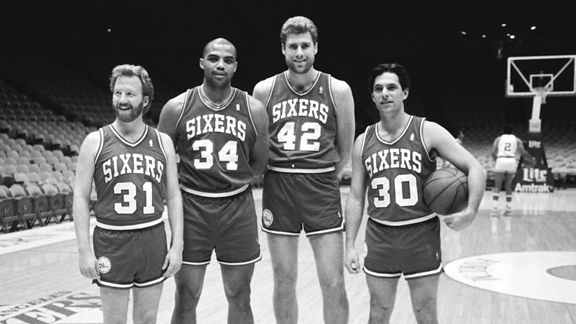 George Rose/Getty Images Entertainment
Ken Olin and Timothy Busfield didn't log enough minutes to establish a meaningful plus-minus rating.
The scene from "Fletch" when Chevy Chase fantasizes he's a member of the Los Angeles Lakers has generally been regarded as the gold standard of NBA dream sequences. In addition to Chase, the sequence stars Kareem Abdul-Jabaar and the late Chick Hearn ("He's actually 6-5. With the afro, 6-9") and concludes with Chase fighting off multiple defenders with his ... teeth.
For sheer comedy, the Fletch bit wins, but narrative punch and realism, you have to give the edge to a 1989 episode from the second season of thirtysomething, starring Ken Olin. When it premiered on ABC in 1987, thirtysomething was a groundbreaking series. At that time, most one-hour dramas fell into one of three genres -- workplace (usually police precincts, hospitals, law firms), nighttime soap and action/freelance vigilantes ("The A Team," "Magnum P.I."). Thirtysomething didn't conform to any of those existing formulas. Its characters were complex, often unlikable, and dealt with neuroses like career anxiety, the stuff that complicates personal and romantic relationships, and the trade-offs you confront in adulthood. The dialogue on the show approximated how human beings spoke to each other, something that made it pretty novel at the time. Thirtysomething was occasionally self-absorbed, but so are we.
Thirtysomething took place in Philadelphia, and basketball was a recurring theme throughout the series. Ken Olin and Timothy Busfield co-owned a boutique ad agency, and were forever shooting hoops at the miniature standing basket in the bullpen. The group of friends on the show would gather to watch a big Sixers game in someone's living room, and scoring Sixers tickets or the chance to meet Charles Barkley in person would pop up as a D-story.
The best basketball content in thirtysomething's four-season run surfaces during a pivotal episode titled "Success." At the outset of the series, Olin (Michael) and Busfield (Elliot) had taken a major risk by leaving an established ad agency to start their own firm where they could be their own bosses. For the first season-plus, things were going well. Michael and Elliot had landed some key accounts, which provided a solid foundation for their fledgling agency. In "Success," their tent pole account (a decent-sized dairy company) gets bought out by a large conglomerate. Despite the fact that Michael and Elliot have done solid work for the company, the conglomerate already has a relationship with a larger firm and has every intention of moving their new acquisition's ad business to that firm. This is the equivalent of Lucky Strike leaving Sterling Cooper Draper & Pryce on "Mad Men."
So through no fault of their own and bad luck, Michael and Elliot are now on the brink of professional ruin. They're already leveraged to the hilt and can't borrow any more money. Michael, who is far more introspective, is internalizing what he sees as a personal failure. No matter how much reassurance he hears from those close to him, his conclusion remains the same: Scoreboard. And he's the goat.
Where does Michael find refuge? In the recesses of his imagination, where things play out differently:
There are a few oddities in the scene, most notably the fact that the Celtics and Sixers are playing an Eastern Conference finals game at the Forum (though the crowd shots are filmed at The Spectrum in Philadelphia). But you have to be impressed that the show was able to corral Sixers head coach Jim Lynam, Charles Barkley, Maurice Cheeks, Mike Gminski, Gerald Henderson and Ron Anderson during the season.
10 years after the episode aired, Olin had this to say about shooting the scene:
Timmy and I went down to the Forum and all the Sixers were there and there 50 photographers, Charles Barkley was there, it was a huge thing, and they said, 'OK Kenny, start doing some lay ups' and I went to do this lay-up and as I went up my feet literally went straight up and I landed flat on my back and all these cameras went click click click and Timmy says 'That was an act of God, man!'
I've always liked the fact that the play call wasn't for Michael -- it lent the scene some realism. Of course Barkley gets the ball in that situation. But when Barkley gets doubled, Michael makes the smart read and dives to the hoop, where Barkley finds him against the double-team.
The Michael character always carried a degree of self-deprecation, and it's fitting that, even as he constructs his fantasy, Michael casts himself as a role player.