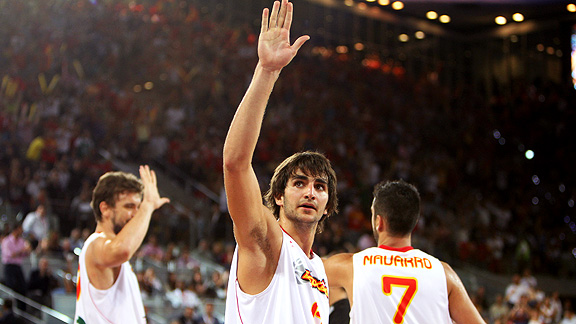 Nathaniel S. Butler/NBAE/Getty Images
Ricky Rubio will be fully empowered to drive the Spanish team's attempt to knock off Team USA.
Basketball's World Championships (maybe the last ones ever ... the name will likely be changing to the World Cup) begin Saturday in Turkey.
In soccer, the World Cup is unquestionably the world's most important tournament. Soccer at the Olympics, by comparison, is something of an afterthought.
Believe it or not, the same is true in basketball for most of the world. The World Championships -- a bigger tournament with a more interesting format -- is the most revered of all international contests, even if in the U.S. we still seem to prefer the Olympics.
In any case, what starts tomorrow is, for most of the participants not in Team U.S.A. uniforms, the pinnacle of international hoops.
The U.S. team, led by Kevin Durant, Chauncey Billups and Derrick Rose will try to stave off the Spanish team of Ricky Rubio, Marc Gasol, Juan Carlos Navarro and others.
It's the same old story: Although the U.S. has far fewer All-Stars than it might, the team has the tournament's best individual players, but on a squad that has only had a few weeks to get to know each other. Other national squads have been playing together for years, and are more comfortable with each other, and FIBA rules.
Who will win? Nobody seems to have a lot of confidence picking one way or another, which is what will make this particularly fun to watch. As you watch (here's the full schedule) here are some things to look for:
Chris Sheridan is traveling with Team U.S.A. and describes a team anyone would want to root for: "They know they are going to be undersized against virtually every opponent they play, but they have outrebounded the opposition by a lot in every single one of their exhibitions through sheer hustle, athleticism and determination. They have gained a little swagger, but they are not fooling themselves into believing they are going to crush every single opponent, and they have come to grips with the notion that the new normal means they are going to have to endure some close games. Yet they have already shown they can handle the pressure of playing a close game against a top-quality opponent on hostile ground and emerge victorious, which is what they did in Madrid. They won't have to endure the same thing in Istanbul unless they play against Turkey. ... It is difficult to name a player who has not been whacked across the face or knocked to the ground without hearing a whistle blow. But rather than complain, the Americans have embraced the physicality of the FIBA game as a refreshing respite from the ticky-tack world of the NBA that they left behind. They are young, they are eager, they are lively. And unlike the team that traveled to Japan four years ago with a false sense of confidence, they are an ego-less bunch with a perfect mixture of respect for the opponents that await them and an understanding of what they can and cannot do. And there is not a single bad apple in their bushel."
2. Ricky Rubio unleashed
Although Minnesota general manager David Kahn has been maligned for picking a player who stayed overseas, the truth is that Rubio is developing nicely, and his rights may be the Timberwolves' most important basketball asset.
One of the sad things about this tournament is the great many players who will miss it due to injury, and Spanish point guard Jose Calderon is near the top of those who will be missed.
However, having the young and flashy Rubio as the unquestioned leader of one of the tournament's best teams will make for good viewing, and good basketball. As M. Haubs of The Painted Area points out, "Calderon has a much lower turnover rate than Rubio, which could be key vs. the ball-hawking Americans, yet the Spanish were significantly better with Rubio on the floor Sunday (plus-19 vs. minus-20 by plus/minus)."
3. Serbia and Greece in a re-tussle
The favorites in this tournament are the U.S. and Spain, followed closely by the two teams that brawled a few days ago: Serbia and Greece. The way the tournament is set, the U.S. and Spain could well meet in one semi-final. The other, quite likely, could be Serbia vs. Greece in a rematch of one of the more vicious games in modern basketball history.
4. LeBron James' new teammates on display
Heat center Joel Anthony will likely be Canada's most important big man. Carlos Arroyo will be running the show for Puerto Rico. They'll both have to be good this season if Miami's going to be great, and this is a chance to see both of them show what they can do when they have the ball more than they usually do in the NBA.
What this tournament will also show, I predict, will be that the Heat's scouting staff was hasty in filling the roster with players like Jamaal Magloire and Zydrunas Ilgauskas. If you watch ten games of this tournament, my bet is you'll be able to make a list of lesser-known international big men who'd do a nice job staying active on defense, running the floor and knocking down open shots alongside the SuperFriends in Miami.
On that note ...
5. Meet Timofey Mozgov, Omer Asik, Semih Erden and Tiago Splitter
As Jay Aych points out on The Painted Area, those first three are the "international big men of mystery" and they'll all be coming to the NBA this upcoming this season. Mozgov is on the Russian team for the next moth or so, then he'll be a Knick. Asik and Erden play for the host Turks. Asik will be a Bull and Erden will be in Celtic green.
Splitter, meanwhile, is better known, and is due to play alongside Tim Duncan in San Antonio. Aych writes that Splitter will be Brazil's featured interior player: " Tiago's deft footwork gets him quality looks around the bucket. Has an effective righty hook and Tiago can finish with his left hand as well. Expect a few sweet up/under step-thru moves as well. Tiago's touch can be dodgy but it seems to be more hit than miss these days. Sometimes his post-up attempts look fluid, other times his scoring attempts look ragged. His shooting stroke is still not easy on the eyes and his touch remains his main flaw. His shot comes off flat which is a factor in below-average free throw shooting. We have mentioned Splitter's strong passing skills before but we feel it's necessary to reiterate what a terrific passer he has become. Not to mention, Tiago can make passes off the move and delivers the ball quickly when he sees an open teammate. His lateral movement on the defensive end is as good as any big in the NBA. Not to mention, he runs the floor hard."
Will they be impact players in the NBA? This tournament is as good a chance as any to make up your mind.
6. The missed French Connection
The French team will be decent, as led by Boris Diaw, Nicolas Batum, Ian Mahinmi and Spurs draftee Nando do Colo. But you could make a nice NBA team out of the French players who are eligible but will not be playing. The list includes Tony Parker, Rodrigue Beaubois, Joakim Noah, Ronny Turiaf, Michael Pietrus, Kevin Seraphin and Alexis Ajinca.
7. NBA coaching prospects
The Russian team is one of the best coached in international play, thanks to the work of American/Israeli head coach David Blatt, who has long been rumored to have been a candidate to return stateside. Watch the Russian team -- they're light on superstars, but compete hard and with intelligence. It's hard to imagine somebody could coach them better, or why Blatt wouldn't make the short lists as NBA teams look for coaches in the years to come.
8. Yi Jianlian's redemption
With Yao Ming still making his way back from a foot injury, Yi will be the featured player for the Chinese team. His NBA career has gotten off to an underwhelming start in Milwaukee and New Jersey, but after an offseason of hard work, and a trade for a fresh start in Washington, now is his chance to show he is on the path to achieving the massive potential that comes with being seven-feet tall, athletic and skilled.
9. The Goran Dragic show
Was any player more fun to watch in the 2010 NBA playoffs? Now the young Suns guard will star for Slovenia. That team is, sadly, missing the likes of Erazem Lorbek, Sasha Vujacic, Beno Udrih and Rasho Nesterovic. But with a lot of pressure on Dragic to carry his team home, he'll be a constant threat to reprise his magical Game 3 against the Spurs.
10. The kick-off of Kevin Durant's MVP campaign
Kevin Durant won the offseason with a hassle-free contract renewal, undying loyalty to his teammates and fantastic play on the international team in warm-ups to this tournament. Now the scoring-challenged American team will look for him to be as dominant with the ball as ever. Paul Pierce once dominated the ball on an undermanned Team USA squad -- at the 2002 World Championships -- and the team came in a dismal sixth. If Durant takes over a similarly undermanned Team U.S.A. and wins the Worlds, Durant will waltz into the NBA season with his MVP candidacy stronger than ever.