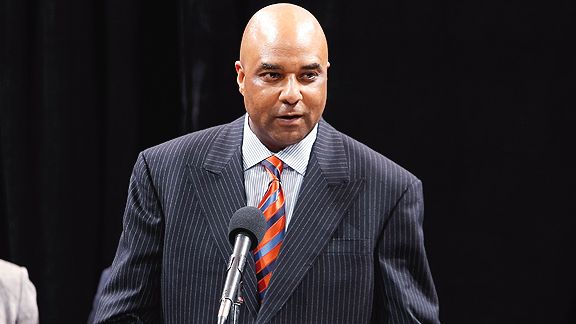 Kent Smith/NBAE/Getty Images
The president of the Bobcats, and a longtime Michael Jordan confidante.
Fred Whitfield is the president and C.O.O. of the Bobcats and has been trusted by Michael Jordan for more than three decades. They met when Jordan was a high-schooler, and Whitfield has been a constant in Jordan's business life since Jordan was in uniform with the Bulls and Whitfield was an attorney under Jordan's agent, David Falk. Whitfield has also held key positions at just about everything Jordan has ever run, including Nike's Brand Jordan, the Wizards and now the Bobcats.
Jordan has evidently selected from a very small pool of candidates in staffing his businesses. Bonds built in youth -- with Whitfield, Buzz Peterson, Rod Higgins and those affiliated with the University of North Carolina -- seem to trump all other concerns. (When Robert Johnson owned the Bobcats, and Jordan was doing the hiring, I asked Johnson if he was concerned that Jordan seemed to cast such a narrow net in seeking executive talent. Whitfield was among those I had in mind as I asked.)
But just who is Fred Whitfield, and how did Jordan come to trust him so much?
It turns out the answer is straightforward. The two met at Whitfield's alma mater, Campbell University, in Buies Creek, North Carolina, in 1980.
Campbell has long been home to a basketball summer camp that has drawn the likes of John Wooden, Jack Ramsay, Bob Cousy, Nate Archibald, Pete Maravich, James Worthy, Dolph Schayes and countless other big names to coach and play. Whitfield attended Campbell, played on the basketball team, and then became an assistant coach there while he was studying for his M.B.A.
Throughout, Whitfield was a mainstay at the camp, as a player and counselor.
"Michael actually came down to our basketball school going into his senior year in high school," he remembers. "He happened to be in my group. We hit it off and became friends. I was either playing there or coaching there at the time, and I was working at the camp. When he went to North Carolina for college, I was an assistant coach at Campbell. When we didn't have games on the weekends I would go up to Chapel Hill and go to his games and kind of hang out with him and [Jordan's college roommate, former Bobcats executive and current UNC-Wilmington head coach] Buzz Peterson. Part of my job as an assistant coach was to bring in A.C.C. players to make appearances at our summer camp. Michael was a guy, while he was at Carolina, that I'd get to come down for a day and speak to the kids. Our friendship just continued to grow."
As an assistant to coach Danny Roberts, Whitfield coached alongside fellow assistant Press Maravich. "Pistol" Pete's dad, now deceased, is something of a coaching legend, who was at Campbell to be near his granddaughter, who was an undergraduate.
Maravich and Whitfield grew close. "Press was a great guy. Just a phenomenal spirit," says Whitfield. "I'm just thankful that I was able to spend that year on the bench with him."
Maravich was also opinionated, and unafraid to dispense advice. "In our coach's meetings," remembers Whitfield, "Press would say: 'Fred, don't be a coach, you're too damn smart to be a coach. Go back to law school.'"
With an MBA and an economics degree under his belt, Whitfield ignored the advice and took a job working for Southern Bell. But he wanted to work in sports, and the elder Maravich was famously relentless.
"I got a long letter -- he loved writing letters -- encouraging me again to go back to law school," remembers Whitfield. "I took his advice."
Whitfield has a law degree from North Carolina Central School of Law which contributed directly to his getting into the sports industry, with Jordan's help.
"Michael went to the NBA," says Whitfield, "and I went back to law school. On breaks from law school I'd go visit M.J. or Ralph Sampson, who's also a close friend. I'd go visit one of those two guys and get to as many games as possible. I'd clearly go to the games in Charlotte, and over the holidays back then the Bulls were playing the Knicks in New York on Christmas Day and I'd always go to those games. Our friendship really took off.
"I went back to my hometown, Greensboro, and practiced law for a while. I was being recruited by all the major sports management firms, I.M.G., Advantage ... to come work with them. Their intent was to get me to steal Michael away from David Falk. Rather than doing that, Michael and I had a conversation and he said rather than doing that it's probably better if you go work with David. And so I went to went to work with David as one of the lawyers in his sports management firm.
"At the time [Falk's business] F.A.M.E. had 40 of the top players in the league. David allowed me to work out of my law office in Carolina. I did that for five years before I left for Nike basketball. [As an agent] I had eight or so football players, and actually I signed Juwan Howard and Sharone Wright, who were in the same draft and went five and six. ... We had a pretty good roster of players. Michael, Patrick, Alonzo, Dikembe, Juwan, Glen Rice, Muggsy..."
At Nike, Whitfield got a first-hand education in business and marketing from Phil Knight. "The greatest business and marketing mind I have been around," says Whitfield. In his work leading Brand Jordan, the Washington Wizards and now the Bobcats, Whitfield sees a big part of his job as enacting the kinds of business principles he saw working at Nike.
Now he's making a name for himself as a basketball team executive. Only the work is not yet complete. The Bobcats he runs are only beginning to show signs of becoming a business success, and Google is almost entirely ignorant of Whitfield's accomplishments. Search his name, and you'll learn almost exclusively about the world champion calf roper by the same name.
Whitfield is not jealous of the rodeo star's high profile. "He's big time! He's a huge star of rodeo!" he says. "You know what I'm thinking? We ought to have that guy in for a halftime show sometime. That would be tremendous."