ISTANBUL -- To foul or not to foul. That was the question.
With the Serbia-Spain game tied 89-89 with 25.8 seconds left, a timeout was called and the two teams dispersed into their separate huddles to discuss strategy. And since this was a FIBA game, the strategizing was more complicated than what we would have seen in an NBA game.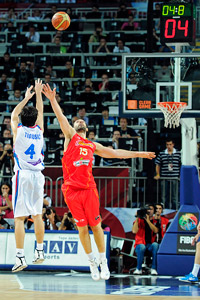 AP Photo/Mark J. Terrill
Milos Teodosic fires up the game-
winning shot over Jorge Garbajosa.
In FIBA, it is not uncommon for the team playing defense to commit an intentional foul and send the opponent to the free throw line -- even though this gives its opponent a chance to make two foul shots for the lead. It happened in the 2006 World Championship semifinals in Japan when Argentina and Spain were tied, and the Argentines intentionally fouled Jose Calderon so that they would get the final shot. Calderon made one of two, and Argentina got an open look for Andres Nocioni just before the buzzer, but he missed.
This time, Spain coach Sergio Scariolo told his team there were two Serbian players whom they should intentionally foul if they got the ball (he would not name them), and three whom they should leave alone.
The ball went to point guard Milos Teodosic (obviously one of the three untouchables), who plays for Olympiacos in Greece, and the Serbs executed a play that forced Jorge Garbajosa to switch onto Teodosic.
Teodosic then stepped back as the other Serbian players spread out wide, dribbling the clock down as he stood 28 feet away from the basket. Garbajosa played off him, and with five seconds left, Teodosic let it fly. And when his straightaway 3-pointer went through the net with 3.1 seconds left, Serbia had a 92-89 victory that dethroned the defending world champions.
"In the timeout, we decided we would only shoot a long 3-pointer. If we miss, it's overtime," said Serbian coach Dusan Ivkovic, whose team avenged a defeat against Spain in the gold medal-game of the 2009 EuroBasket tournament in Poland.
Serbia, which had six players score in double figures, will face the winner of Wednesday night's late game between Turkey and Slovenia in the semifinals on Saturday.