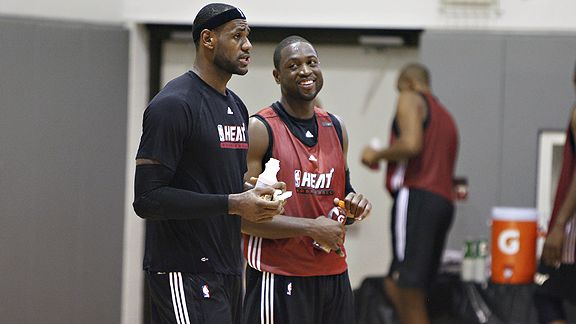 Issac Baldizon/NBAE via Getty Images
LeBron James and Dwyane Wade began Miami Heat training camp on a military base.
HURLBURT FIELD, Fla. -- Ask the prognosticators and they'll say there's a good chance that the Miami Heat's season will end in L.A., as a result of both teams making the NBA Finals.
A lesser known fact is that the Heat's campaign is also starting in L.A. -- the other L.A., that is, which stands for Lower Alabama in the southern vernacular. It's so named for this stretch of Florida's far greater cultural and geographic proximity to its northern neighbor than to the bright lights of South Beach, nearly 600 miles away.
"Miles away" is a good description for where the Heat stand too, compared to where they were in recent years.
Less than 18 months ago the Heat played a seventh game in the playoffs and I was the only national media member in attendance. Today the Heat had a training camp practice in a small city in a different time zone, and I was one of about 75 people covering it -- including several from my own company.
Coming Soon: Heat Index
The Heat are ready to roll, and so are we. Coming in October: The Heat Index, a special section tracking all the team's moves in MIA.
When the media came on to the practice court, some players were stunned at the conga line of people that kept filing in.
"I didn't know it was going to be like that," said Udonis Haslem. "When the door opened I expected five or six guys like we usually do back home. I forget I have to [multiply] that by a hundred."
This is different from anything the Heat have ever experienced before. It's different, for that matter, from anything just about any team without Michael Jordan on it has experienced before. Not even major market powerhouses like the Lakers and Knicks have drawn mobs of this size to chronicle their daily grind. (And for those of you who will tell me that you're sick of the Heat already, unfortunately your actions belie your words. I could write about Dwyane Wade's choice of dental floss today and there's a good chance it would lead our site in eyeballs.)
As a result, there's an odd circular effect: One of the biggest stories of the Heat's coming season is how they deal with all of us.
And by "us," I include those of us that aren't necessarily in this to break down box scores. With the Heat crossing into rock star territory, stars like Wade, LeBron James and Chris Bosh are now in the crosshairs of assorted peepers and paparazzi. Heck, their backups might be too.
Which takes us back to the decision to come here in the first place. With eight new faces on guaranteed contracts, including two rather important ones in Bosh and James, and an unprecedented avalanche of media attention, perhaps no team has needed a remote getaway more than this one.
That's what led the Heat to their current quarters at an on-base lodging hotel at Hurlburt Field, an Air Force base just outside of Fort Walton Beach, Fla., that's impermeable to prying paparazzi eyes. (While it's spartan accommodations by normal NBA standards, they're not exactly slumming it. One source compared it to a Courtyard by Marriott.)
Unless you're in the military, the only way you're spying on these guys is with Google Earth. Writers had to get a government security clearance just to come here, had their bags sniffed by trained dogs and were even escorted to the restroom.
Yet once on the practice court, it was Anywhere, NBA. The portion of Heat practice open to writers featured five-on-five defensive drills with four quintets -- Bosh, Wade and James were each on different sides -- but we did get treated to one breakout where James slammed home a powerful dunk. (The Heat, it should be noted, brought their own rims. No way a standard issue rec-center model was surviving a week of LeBron throwdowns.)
It was just basketball, in other words, and that's the big idea behind coming here. For as long as they can, the Heat will try to minimize the outside noise and maximize the internal bonding. The first step on the road to a showdown with the real L.A. is to forge that camaraderie in this L.A.