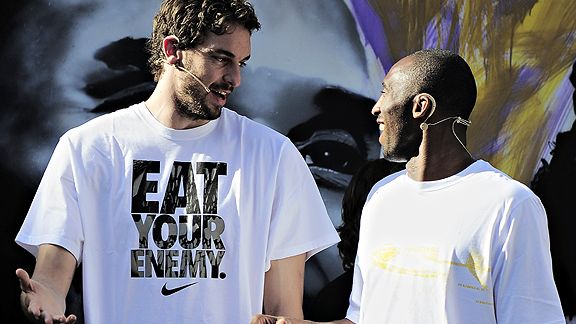 David Ramos, Getty Images Sport
Lakers feeling the Heat? It's a core question of the upcoming NBA season.
Who's the "team to beat?"
It's a fun little theoretical debate now. LeBron James, some say, squirmed his way out of Cleveland and onto a team so stacked it could hardly lose. Others say that stacked team is still second banana to the defending champion Lakers. James, for his part, plays the humility card in saying that the Heat are behind the Celtics and Magic in the Eastern pecking order.
But by the time the playoffs start, there will be little need for theory. Modesty, and theoretical thinking, be damned: Somebody will emerge as top dogs.
Are the Knicks finally on track?
They spent forever and a day in the quest for the magical elixir of 2010 cap room. Then they guzzled mightily of that cap room and ended up with ... an injury prone big man who doesn't play defense or create his own offense efficiently, but talks like an MVP candidate who has everything figured out. It's also worth mentioning that they hired a coach famous for a system that relies on a transcendent point guard, but they have no such player, and no trade assets to get one. The Knicks had a fine offseason, and more to talk about than ever. But if they're on anything resembling a path to greatness, they'll have to prove it on the court this year.
A subtext: Amare Stoudemire, Mike D'Antoni and Steve Nash combined to form a very special team. Who was most essential to the mighty Suns' success? This could be the season Nash wins that debate.
Who makes the big move?
It's exceedingly unlikely that Carmelo Anthony, Chris Paul, Devin Harris and Gilbert Arenas will all be with their current teams at the end of the season. Tony Parker is due to be paid, which could put pressure on the Spurs. Also, it would be in keeping with Mark Cuban's mentality, and Dirk Nowitzki's biological clock, for the Mavericks to try to bring in big-name firepower of some kind. Daryl Morey has been frank about the power of superstars.
The arms race was started by the Lakers, and has been joined by the Heat. The Celtics have placed their Shaquille O'Neal gamble. The Magic have the best center in the land. Who else will join the short list of contenders?
Will Pat Riley resist?
Shoving Stan Van Gundy aside in late 2005 -- when the team was halfway to a title -- was one of the more shameful moments in recent NBA history. The whispers persist that the man who calls the shots in Miami, Riley, will once again call his own number midseason. I have no idea who's the better coach, but I do know that it would leave a horribly bitter aftertaste were this to happen again. "If Riley does that again," one NBA insider points out, "this really would become the most hated team in the NBA."
Big and healthy in the West?
The Lakers are a great pick to win the West. But who's next? There's a knot of teams, three of whom rely on top-shelf big men with dollar store bodies. Houston's Yao Ming, San Antonio's Tim Duncan, and Portland's Greg Oden all have the teammates, the size and the skills to anchor a conference finals team. But they also each represent their team's biggest question mark, simply because recent history makes it hard to predict any will be firing on all cylinders next Spring.
Can the NBA go another year without a referee incident?
Fair or not, post-Tim Donaghy, NBA referees have credibility issues with fans. It's not the biggest story in the world, and there's no special reason to think the referee corps is liable to find trouble this season. However, should something happen, say if another referee is found betting on NBA games, doing anything that remotely resembles fixing a game or should a microphone even pick up a referee talking about any such thing, fans will be beyond harsh and it'll take bold strokes for the NBA to win back their trust. This season, and every season for the next several, the NBA needs to remain free of referee scandals of all kinds.
What becomes of the Pistons?
For the longest time, this has been one the NBA's proudest franchises, noted for great decision-making, zealous fans and playoff success. Now, however, the team is in all kinds of transition. Off the court, the hunt for a post-Bill Davidson owner is underway. Whispers of leaving economically challenged Michigan have subsided, there's still a sale to be completed and that process is seldom smooth. On the court, the team is simply neither great, nor set-up for rapid improvement.
Who gets to lose to the Bulls in the playoffs?
Their big free-agent acquisition, Carlos Boozer, is out after hand surgery. They are young, have a lot of new personnel and a first-time head coach. For all those reasons, the Bulls likely will not race to the top of the standings early in the season. However, as this team finds its sea legs, they should be a better defensive team than ever thanks in no small part to Coach Tom Thibodeau who ran one of the league's best defenses in Boston. By the time of the playoffs, the Bulls should be ready to do some damage, and it's unlikely the conference's big-name teams like the Heat, Celtics and Magic will all be able to avoid them in the first round.
Is Al Jefferson an upgrade?
The Jazz took one of the NBA's best rosters and made a huge change -- out with Boozer, and in with Al Jefferson. No one argues that Jefferson isn't a bigger, better post scorer -- there's a reason the Timberwolves traded Kevin Garnett for a package starring Jefferson. But what about all the rebounding, passing and movement that comes with playing on a Sloan team? Can Jefferson master all that? If he can, this might be not just the unsung move of the offseason, but also the key to keeping Deron Williams in Utah for his entire career.
Can owners have a good enough year to avert a lockout?
The collective bargaining agreement is set to expire next summer, and there has been lots of doom, gloom and lockout planning. But let's pretend, for a moment, that some combination of LeBron James' Decision, Kobe Bryant's fame and David Stern's marketing alchemy make this the most successful year, economically, in NBA history. If owners are making money by having players on the court, is there really going to be a strong appetite to lock them out?