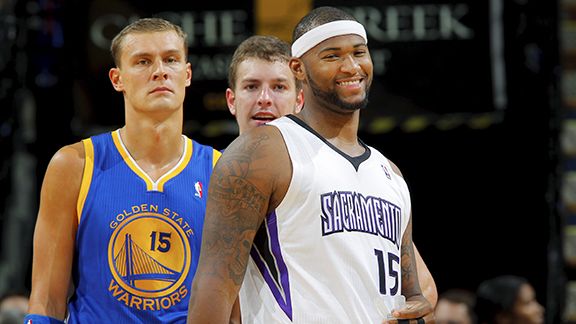 Rocky Widner/NBAE/Getty Images
DeMarcus Cousins' Rookie of the Year candidacy will benefit from Samuel Dalembert's current injury.
I never really understood those "Team Jolie" or "Team Anniston" shirts that people thought were so hilarious and expressive.
In today's sports world you have to have a "Team This Guy" and a "Team That Guy". Everybody has to be pitted against each other to the bitter death – or at least a final buzzer.
With the NBA that's especially prevalent. There is no possible way you can root for two good players on opposing sides. You either like Kobe Bryant or LeBron James (or in a few cases neither). Pick between Chris Paul and Deron Williams but do NOT say you enjoy both of them. There's no way to appreciate Matt Bonner and Brian Scalabrine at the same time.
That sentiment seems to be permeating into the 2011 Rookie of the Year race. There are people convinced Blake Griffin will run away with the award because he's the size of Karl Malone and he moves around the court like Latrell Sprewell (insert joke about choking coaches here). There are others who are certain John Wall will take home the hardware because as the point guard he controls his own destiny this season. He'll never have to rely on other players to set him up or make sure he gets to touch the ball on most possessions.
But now the Rookie of the Year race just got another serious candidate thanks to an injury in Sacramento. The Kings learned from MRI results that Samuel Dalembert will miss the next 4-6 weeks with his left adductor (think groin) strained.
What does that have to do with the Rookie of the Year race? It means the Kings pretty much have to start DeMarcus Cousins on opening night at the center position. Instead of Cousins biding his time, earning his PT and carving out his place in the rotation -- and eventually starting lineup -- he will now get the same luxury afforded to Tyreke Evans last season. Now, DeMarcus Cousins will most likely be a starter to begin the regular season.
This is big because it's so hard for rookies to make up ground for the ROY award when given a late start. Even though he would have been in the rotation right away, it's just not the same as being the guy logging major minutes for an entire season.
Take a look at Stephen Curry last year. He did a phenomenal job of making up ground against a historic season from Tyreke. His second half numbers were astounding. But at the same time, he always had the first two months of the season that were just okay.
DeMarcus now gets to make his own way to start the season. He won't have to play catch-up and he's shown plenty of skill since the draft that leaves quite a few people wondering how he fits into this race. By the time Dalembert returns, gets into game shape, and knows the system well enough, we could be well into the month of December. Six weeks of Cousins getting his feet wet will show whether or not he's a contender for this rookie honor.
So who you got? Are you going with the absurdly athletic power forward playing for the Clippers, the freakishly spry point guard with world-class quickness in our Nation's Capitol, or the bull in the post in Sacramento ready to keep his starting spot? Because there can only be one (unless there's a co-winner), and you certainly can't like all of them or even two of them.
If there isn't a website already selling "Team Wall", "Team Griffin" and "Team Cousins" t-shirts right now, then I'll be very disappointed in the internet today.