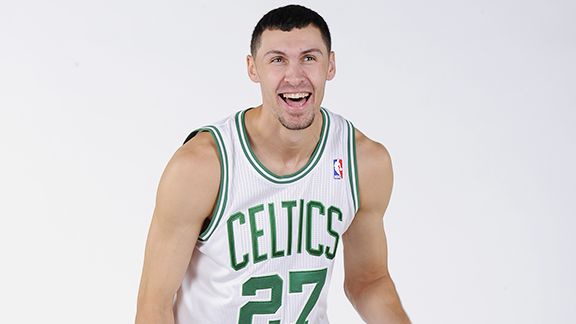 Brian Babineau/NBAE via Getty Images
In early October, Tony Gaffney was in uniform in Boston. Now he's writing from Ankara, Turkey.
Less than a month ago, Celtic Tony Gaffney was, perhaps more than any NBA player, living his dream. He had grown up in a Massachusetts bedroom with parquet floor, covered in Celtics memorabilia. After college at the University of Massachusetts, then stints with the Lakers, and in Israel, he was a few weeks from wearing green in an NBA regular season game for the first time. Alas, there are no promises at the NBA's fringes, and Gaffney was cut in training camp. He quickly signed with Telekom, in Ankara, Turkey. He has agreed to update TrueHoop readers from time to time from abroad. His first installment:
So 22 days after I have "switched places" with my man Semih Erden, now in Boston with the good guys, I find myself venturing out into the land of the Turks.
This overseas thing is beginning to grow on me. While I loved living in Boston and in Los Angeles, there are definitely some things I've seen out here in Ankara, Turkey, that I wouldn't have seen in a million years back in the States.
Three weeks ago, upon arrival, as I'm driving through this unfamiliar territory, I notice that about every mile or so, there is a mall the size of Rhode Island. Tons of shopping outlets and malls, I'm thinking ... I could get used to this.
About a week ago, I wandered into one of them. The first thing I see when walking into the doors with a few of my teammates (foreigners as well: Greg Stiemsma from Wisconsin and Sani Becirovic out of Slovenia) is a giant chocolate fondu kiosk.
I'm immediately in heaven.
As I approach it, to my immediate right, is another kiosk, with a line that stretched as long as Comm. Ave. in Boston. That line is at the ... wait for it ... corn kiosk.
Nope, no mis-type, every 50 feet or so, there is a little spot where you can purchase a cup of corn.
I'm thinking to myself, "there's got to be a story, or some Turkish meaning behind this."
Nope, as Americans, we love to go to the mall, grab a pretzel, or maybe some ice cream while walking around. In Turkey, if you're walking through the mall, or going to a movie, or even in a 5Migros (the Walmart of Turkey), you grab a cup of corn, throw some butter on it, some salt, some seasoning, and enjoy the day.
Three days ago, I made my way to the movies, to watch the newly released Avatar 3-D with added scenes. You already know what I had in hand on my way into the theater: 3-D glasses and all, a large cup of Turkish grown, salted and buttered corn.
I'm definitely looking forward to sharing many more of my experiences out here in Turkey over the next few months, and if Allen Iverson wants to join a fellow American out here for a cup of corn, I'm ready to help him adjust to the Turkish lifestyle, just saying. Catch y'all in a few.
Tony Gaffney is on Twitter at @tgaffney27.