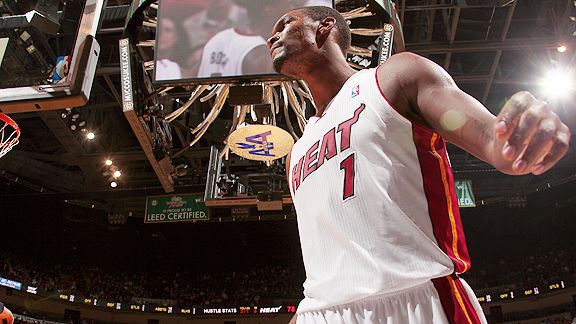 Victor Baldizon/NBAE/Getty Images
A soft big man like Chris Bosh can never win a title. Right?
There's a certain power forward for a talented team who has heard some of the worst criticism any NBA player ever hears. They say he's too soft. They say he doesn't like contact. They say he's only good on offense. Most brutal one of all, they say he's the kind of guy who will never win a championship.
Of course you know who I'm talking about. Yep, it's ... Pau Gasol!
Did you think I was talking about Chris Bosh? In a way, I was. But first let's recall the story of Gasol.
I vividly remember, during the 2008 playoffs, when the new Laker was being savaged in this way.
I defended him vigorously. I discussed how much pushing and shoving exists in international play and the Euroleague, and said that no player of Gasol's pedigree would be overwhelmed by what they found in the NBA playoffs. I mentioned how he had been a target for his team -- and the opposing defenders -- for a decade plus, and yet had always been amazingly productive. I thought the "haters" were dead wrong.
I picked the Lakers to beat Boston in six games in 2008 largely because I believed in Gasol.
Then, as we all saw, he got his butt kicked up and down the court. There is no other way to see it. Boston pounded him into a player I didn't recognize. In the Finals, he was soft. Period.
But let's not forget what happened next. Gasol responded like a champion. He made himself into an even better player than he was before, and won a ring the next year, having developed the toughness he lacked just a year earlier.
Then, he got better still, and helped lead his team to that memorable Game 7 in Los Angeles last June.
The box score from that game shows Boston's entire team -- famous for its toughness -- grabbed eight offensive rebounds. And "Euro-soft," shaggy, skinny Pau Gasol had nine all by himself. Gasol had more offensive rebounds in the first quarter than super tough Kevin Garnett had in total rebounds for the game. Gasol's productivity was remarkable. He finished the biggest game of his career with 19 points, 18 rebounds, four assists, two blocks and just one turnover.
The day after the Lakers lost Game 6 in 2008, who thought Gasol would be a two-time champion, and quite possibly, the best power forward in the world, just a couple of years later? His failure in 2008 created a monster that just keeps getting scarier.
Titles are won in June. And the journey there often shapes the characters involved.
The Chris Bosh we see today will not be the one we see in the spring.
Could he melt under the pressure? Sure.
But I do not expect that to happen. Instead, like Gasol, I think failure today -- that is, failing to commit a hard foul, failing to outfight an opponent for a loose ball, failure to bang an opponent out of an advantageous rebounding position, failure to take a charge in a tight game, and failure simply to be tougher than he is now -- will be nothing but fuel for tomorrow. And a reminder of just how much failing on a big stage can be humiliating.
Pain can be a great motivator, and without doubt, Bosh feels pain now and will feel more later. He's adjusting to far more than a new coach, new teammates, new system, new lifestyle and new daily routines. He's the third best player on a team almost certainly for the first time in his life. New, however, never lasts. It becomes old, and comfortable, in time. He only has to look out West to gain insight into his challenge, because Gasol faced so many similar challenges.
So for all of you who think Chris Bosh today is just like Pau Gasol was then, too soft to help his team win a ring, I keep thinking one thing: the Heat should be so lucky.