I have already embedded this video once, but just in case you missed it, or even if you didn't:
Watch Russian Knick rookie Timofey Mozgov, the dunkee, in that video.
Playing in his 12th NBA game, the poor guy looks a little stunned. Later, Mozgov discussed the moment with Sports.ru, where commenters suggested he might at least have raised his arms. His response has been translated from the Russian by journalist Alexander Chernykh: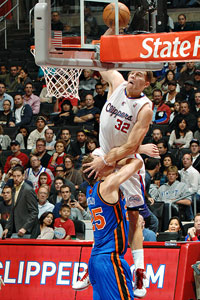 Noah Graham/NBAE/Getty Images
Mozgov says he fouled Griffin to keep from being hurdled.
When he was driving to the hoop, I was ready to face him. I thought if something happens, I would foul him when the ball was low.

But he's very quick! You can't imagine how quick he is. You say, take a charge or raise your arms?

Before I had time to think, he was already up in the air. I understood that I only had time to give him a little push. I committed a foul, but because of that he didn't jump over me.

He could ...

Of course later guys in the locker room would make jokes about it. But good-natured jokes. They were having fun and congratulating me on this baptism by fire. They said that I wasn't the first one and I wasn't the last one.