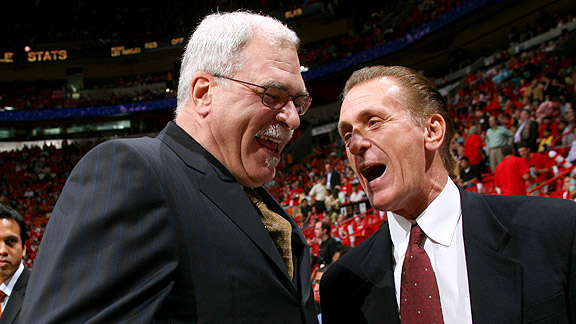 Victor Baldison/NBAE/Getty Images
In her new book, Jeanie Buss says Riley was intrigued by the Laker head coaching job in 2004.
Phil Jackson, you may have have already seen, has been sounding the alarm that Pat Riley may well be on his way to returning to the sidelines in Miami, where many have long whispered he was destined to replace Erik Spoelstra, like he once did to Stan Van Gundy. (Notice in that 2005 photo above, that's then-assistant Erik Spoelstra just behind Jackson.)
That has led to some talk about the relationship between Riley and Jackson.
Perhaps the best positioned person to offer insight into that topic is Jeanie Buss. She's the executive vice president of the Lakers, Jackson's girlfriend, and someone who had an insider's view -- as the owner's daughter and a sports executive -- of Pat Riley's transformation from ex-player and broadcaster into coaching legend starting in the late 1970s.
Buss's new book, "Laker Girl," addressed the relationship between the two coaches:
I still think Pat is more associated with the Lakers than Phil is, even though Pat also won a championship with another team. That's because we all witnessed the birth of Pat Riley, the coach. This was the nest he came from. We watched him become who he was, so the image of him crouched on the sideline in front of our bench will be forever ingrained in the minds of Laker fans. Phil, on the other hand, will be thought of in terms of coming here in the second half of his coaching career.

Phil and Pat are friendly rivals with mutual respect for each other. They even trade notes on occasion.

There is no bitterness there even though their teams had many fierce battles when Phil was coaching the Bulls and Pat was leading the Knicks.

"I always appreciated Pat's gamesmanship," Phil told me. "He always brought out the best in me. People in L.A. don't know that."
A page later, she adds:
When Phil left the Lakers in 2004, I was all for Pat replacing him. I thought that would have been a good hire.

However, given Pat's situation in Miami -- where he was not only the coach at the time but team president as well -- it didn't seem to make a lot of sense.

But Pat was definitely intrigued by the idea.