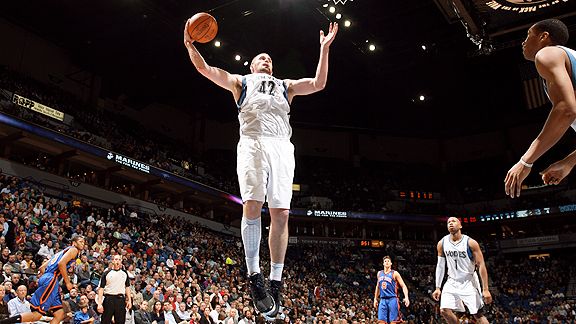 David Sherman/NBAE/Getty Images
Credit Kevin Love with the heroism, but: Where were the Knicks?
Here are some nice video highlights of Kevin Love assembling one of the most amazing statistical games of the last couple of NBA decades.
How did the Timberwolves big man get those 31 points and 31 rebounds (the first NBA player since Moses Malone in 1982 to register a 30-30 game) against the visiting Knicks in November?
With tremendous hard work, shifty positioning, grit, awareness, good hands, will ... and a lot of help from the Knicks.
Watch for yourself, and holy cow: Love gets at least a dozen of those rebounds with no Knicks in the vicinity at all. When Knicks were in the frame, they were almost never between Love and the basket -- very few of his rebounds came from actually jumping higher than, or reaching over, anybody. (And he's challenged in that regard. Plenty of NBA big men are taller, longer, and jump higher.)
Credit Love with the constant effort and awareness to get himself to the best spots on the floor so many times.
But ... where were the Knicks?
The teams faced each other a few weeks later, and the Knicks -- determined to prevent another 30-30 game -- were able to hold Love to 15 rebounds, which seems about right. A little rebounding effort might have had a similar effect the first time those two teams played.