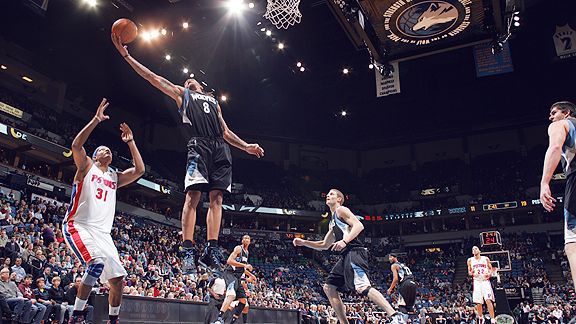 David Sherman/NBAE/Getty Images
Is the Timberwolves franchise in dreadful shape? It's far more complicated than that.
Benjamin Polk of A Wolf Among Wolves tackles the notion that the Timberwolves have historically bad leadership:
The Minnesota Timberwolves are epically mismanaged. Their roster is an unsolvable puzzle, ridden with curiosities, redundancies and mercurial, underachieving former lottery picks.
And, as absurdly as the team is constructed, the way they're coached may be even more baffling. Do they even realize that Kevin Love -- the guy with the World Championship gold medal, who scored 31 points and grabbed 31 rebounds in one game -- is the best player on this ridiculous team?
All the above seems to be the national media consensus, as articulated by any number of writers, including Rob Mahoney who wrote on The New York Times' Off the Dribble blog that "if teams exist in this league solely for the purpose of winning games, then the very existence of the Timberwolves franchise is an abject failure."
Punishing.
But as someone who watches the team and all their games closely, I've always found this harsh narrative unsatisfying, and not just because it wounds my hometown pride. It also strikes me as unfair. It misses the strange and fascinating essence of these Wolves.
Instead of being encased in doom, this team is instead saturated in contradictions. A young team with real promise chafes against a nightly demand to win. Do we even know what success would look like for a team as grievously inexperienced as these Wolves?
I asked around (and looked deep inside) for some answers to these questions. From the thickets of information I received in return, I've attempted to extract some essential, common sense guidelines that might help the Wolves find their way. Here we go.
Play Kevin Love More
Most casual observers of the NBA know that Love is going bananas this season, that he is hitting threes at an impressive rate and rebounding with a demonic fury.
David Berri, stat savant and author of "The Wages of Wins," generously ran an analysis on the question of whether Rambis' substitutions differed wildly from what was typical.
He found that Love was playing nearly five fewer minutes per game than expected.
"Love is currently the most productive player in the NBA," he said. "Love has already produced 8.3 wins and is on pace to produce 28.3 wins. But Love is only getting 34 minutes per game, so his lack of minutes is an issue."
Play Anthony Tolliver More
"I happen to think Anthony Tolliver probably deserves minutes," says David Thorpe. (Full disclosure: Thorpe coaches Timberwolf Corey Brewer at his Pro Training Center in Florida.) "I think he's one of the best pickups I've seen. He really makes a difference out there as a four and five."
Berri similarly believes that Tolliver deserves more burn, having played about six minutes per game less than expected.
Wayne Winston, another master of stats, concurs. Winston uses point differentials -- adjusted for the quality of the opponent -- to identify which full lineups and combinations of players are most successful for their teams; he finds that the Timberwolves perform significantly better, particularly on defense, when Tolliver is on the floor.
This, ironically, is in marked contrast to Love, whose grasp of team defense is still very much in development and who struggles against the league's many longer and more athletic players.
Now is a good time to mention that Tolliver and Love play the same position.
Things are starting to get complicated.
Don't Play Love and Darko Milicic Together
"When [Love and Darko] are both in," says Winston, "they play nine points worse than an average team. But if you put one of those guys in without the other, they're a fairly good team."
Thorpe elaborates: "One of the problems when you've got Love and Milicic as the four and five is obviously a lack of athleticism … I think you need a quicker hustle guy with those guys if you're going to play them together." So the Wolves are supposed to give more minutes to Tolliver and Love -- who, again, play the same position -- while somehow not playing Love and Darko together. Tricky.
Play Corey Brewer and Wes Johnson More
Winston's numbers show that Brewer and Johnson both have significant salutary effects on the Wolves' performance, both individually and when put into tandem -- particularly when contrasted with Michael Beasley.
Thorpe agrees (about Brewer, but not Johnson). "Minnesota does not rank as a strong defensive team," says Thorpe. "If you look at the breakdown of offensive rating and defensive rating, Minnesota is playing their best defense when Corey Brewer is in the game. He's tied with Darko in terms of what they're giving up per 100 possessions and that's in some cases significantly so."
Remember now, too, how much it helps to have energetic, athletic wings lining up next to Love and Milicic. Brewer and Johnson definitely fit that bill.
Play Those Guys Less, Not More!
Berri says: "Michael Beasley, Wesley Johnson, and Corey Brewer have received about 100 minutes more than expected."
Both Brewer and Johnson are unreliable ballhandlers with limited offensive games. How can you justify big minutes for those dudes? Especially when Beasley has a chance to become one of the league's most dynamic scorers? Except that Beasley's a high-volume, relatively low-efficiency scorer. If you want to win more, there's a strong case that all of this team's wings are playing too much already.
Win as Many Basketball Games As You Possibly Can
Both Berri and Winston believe that the Wolves could be better deploying their lineups to maximize their chances at winning.
Although Berri believes that "the allocation of minutes by Rambis would line up with what a 'typical' NBA coach would do," he says that with some tweaking, the team could perform significantly better.
"If minutes were re-allocated so the most productive players got the most minutes (I limited each player to only 36 minutes per game), then we can get the T-Wolves to 35.7 projected wins."
Winston effectively agrees. He believes that limiting the rotation to eight or nine players and breaking up the inefficient Love/Darko/Beasley monolith could yield transformative results: "I think the talent is there … If they really wanted to win, you could come up with combinations that would win a lot of games."
Develop Your Young Talent
I hope you're seeing the complexities of the problem. The stats advocated by the experts above have added innumerable layers and dimensions to this discussion. But we also know that players can get better, right? To do that, they need to play.
There's a strong case for giving the franchise's most important players, Love, Milicic and Beasley, for starters, long minutes together just to see what they can become, as a unit.
Maybe you live with Kevin Love's defensive shortcomings (which show up in Winston's stats) -- that means sacrificing Tolliver's efficient heroism in favor of Love's breathtaking levels of production (reflected in Berri's)? Do you give Beasley the opportunity to grow into his immense talent and simply accept that, for now at least, ill-chosen shots and moments of vacant, distracted defense are part of the bargain? Do you commit to nurturing Darko through his many crises of confidence, though it's almost certain that he'll turn in some abominable performances in the process? Does making sure that your most promising young players reach their full potential sometimes make it harder to win games?
Sometimes it does.
And in that, I think we're getting to the heart of what makes the Wolves, in Mahoney's words, so "oddly fascinating" and "tragically entertaining."
Of course, there is no guarantee this dream will ever be consummated -- no one is predicting trophies or rings, those most basic arbiters of NBA success.
Instead, this team is resolutely a work in progress and ridden with contradictions.
Every moment of clarity is tempered by a dilemma; every solution is balanced by some new puzzle. Love is a strange synthesis of the romanticized, blue-collar banger and the new-school, finesse European big man. Beasley radiates a goofy joy that both animates and confuses his play. Darko is a quixotic riddle, a symbol both of unbounded possibility and of crushing disappointment. Corey Brewer's enthusiasm and gangly limbs charm while his manic unpredictability baffles. I could go on. So what fascinates about the Timberwolves is the tension between dreamy aspiration and the awkward, often unlovely process of coming into being.
For the first time in years, the Wolves are compelling -- not just in the overstated depth of their awfulness.