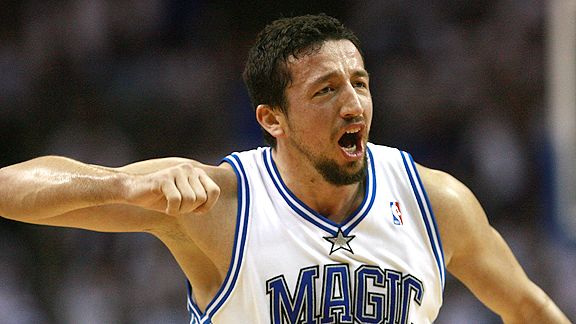 Doug Benc/Getty Images
Hedo Turkoglu played his best ball in a Magic uniform. Two teams later, he aims to recapture glory.
The Phoenix Suns-Orlando Magic deal (Vince Carter, Marcin Gortat, Mickael Pietrus, a 2011 first-round pick and cash considerations for Hedo Turkoglu, Jason Richardson and Earl Clark) seems to benefit both teams. At this point, 29-year old Richardson could be seen as an upgrade over Carter, who at 33 is having the worst season of his career. Richardson is shooting 42 percent from 3-point range and can spread the floor like Rashard Lewis, who was shipped to Washington for Gilbert Arenas.
But the most exciting piece for Magic fans may be the return of Turkoglu. The 6-10 small forward had the best years of his career while in Orlando from 2004-2009. He averaged 16.8 points in helping the Magic reach the 2009 NBA Finals before signing with Toronto as a free agent.
After struggling badly in Toronto, Turkoglu was traded to Phoenix, where he also failed to reach the level he played at in Orlando.
The Magic haven't been the same without Turkoglu either. His playmaking ability has been sorely missed.
For Phoenix, Gortat was the biggest basketball piece. The 6-11 center has been dying for more playing time while backing up Dwight Howard. Viewed as a starting caliber big man throughout the league, he'll finally get his shot in Phoenix. It was a nice addition for the Suns, who are currently the second-worst rebounding team in the league.
Carter, who could experience an uptick in the Suns' wide-open system, can adequately replace Richardson, and Pietrus brings attitude, defense and 3-point shooting.
Only about $4 million of Carter's $18 million salary for next season is guaranteed, and Pietrus has a player option worth $5.3 million next season.