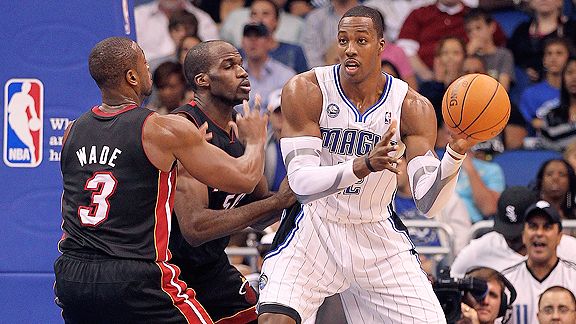 Mike Ehrmann/Getty Images Sport
There's plenty to like beyond Dwight Howard's biceps
Beckley Mason is Founder of the ESPN TrueHoop Network Blog HoopSpeak.com. You can also find him on Twitter here, and contributing his thoughts on basketball and jewelry commercials to Daily Dime Live.
The thing about stereotypes is that they endure long after any relationship to reality fades. Once opinion about a player is accepted as fact, it's easy to reinforce prevailing perceptions with selective examples that obscure changes over time. For Dwight Howard, his rough offensive performance against the Boston Celtics on Christmas reawakened accusations that he is a jolly Philistine who can't handle being pushed around; a terrifying defender who yet lacks the offensive skills common to NBA centers.
In reality, Howard has been steadily evolving since he entered the league, and it's time to update this collective opinion.
It's true that there have been noticeable additions to Dwight's reputation this year, as Howard's well-produced three days with Hakeem Olajuwon and his improved face-up jump shot have garnered praise. But the core narrative, that Howard operates primarily by brute force, remains intact.
It's not hard to locate the source of this perception. His shoulders look like they might pop if they don't first destroy his opposition's sternum, and his terribly awkward free throw release is a singular example of public self-destruction. But his menacing upper body distracts from a relatively skinny base that cannot anchor Howard to the block like the thick legs of Tim Duncan. Indeed Howard's most important attribute has never been his size and power (he's 6-foot-9 without shoes), but his leaping ability, lightning quick feet and mid-air body control.
By casting Howard as the brute force, we easily overlook all the thinking he does on the court. Over the last few seasons, Howard has become one of the league's best big men at passing out of the double team. This can be hard to notice because of the offense in which he plays. Unlike the Lakers' Pau Gasol, who feeds a steady carousel of cutters from the post, racking up assists that are easy to spot in a box score, Howard's role is to make the hockey assist for his 3-point shooting teammates. When the Magic space the floor around Howard, often the wide open 3-point shot or closeout-busting drive will come two passes after Howard kicks the ball out of the double team. Howard may not tally the assist, but his decision making and ability to absorb a full double team before finding the right teammate on the perimeter are vital to his team's success.
Defensively, Howard's volleyball spike blocks are spectacular, but what's truly impressive is the amount of times each game Howard contests an attacking player by trusting the principle of verticality and jumping straight up without attempting to swat the shot. The weakside blocks are a freakish display of explosiveness; the perfect rotations that result in missed shots are the result of a cerebral defensive approach. He also is one of the best in the league at hedging on screen-and-rolls. Howard was actually a guard for much of his childhood, and his lateral quickness on the perimeter remains impressive.
It can be hard to find where these improvements show up statistically. Since 2008 his scoring and field goal shooting percentages have remained fairly static while his assist to turnover rate unimpressively hangs around .33 assist to turnover ratio. However his usage percentage, an indicator of how many plays are being run through Howard, has climbed steadily during his career to a very respectable 28.6 percent. For perspective, Kobe Bryant currently owns the league's highest Usage rate, 34.34 percent, and Dirk Nowitzki's is 28.4 percent. So the Magic are using Dwight just as much as the Mavericks employ Nowitzki's offensive genius, but how many people believe Howard to be the offensive focal point that Nowitzki is?
I wouldn't argue that Dwight is nearly as skilled or efficient a scorer as Dirk, but clearly Howard is not an offensive afterthought.
Even the storyline that Howard is particularly incapable of playing well against Boston is overblown. Over the last three games of the last season's Eastern Conference finals against the Celtics, when Howard stopped kicking out and started attacking on his own, he personally demolished the Celtics' front line to the tune of 27.0 points and 12.7 rebounds on 64.6 percent shooting.
Is Howard capable of putting up big numbers against the Celtics? Absolutely. Why do you think the Celtics picked up Shaq (who fouled out Saturday trying to keep up with Howard)? To match up with Joel Anthony?
Last night against the Nets' Brook Lopez, who is significantly larger than Dwight, Howard got back on track, dominating the boards (13 rebounds to Brook's seven), recording six blocks and leading a defensive effort that held the Nets to 39.7 percent shooting from the field. Howard made smart plays all over the court, using his feet to snuff out pick-and-rolls, getting in position to contest everything at the rim and creating offense for his entire team by forcing the Nets to double him.
Certainly Howard still has offensive limitations that should not be overlooked. His lack of lower body strength sometimes causes him to fight for position with his arms, which results in easily spotted, maddeningly cheap fouls off the ball and makes it hard for him to back in his man under the basket. It would also be great if the Magic team doctor could remove whatever it is in his arm (oh, it's his enormous bicep?) that prevents him from extending his elbow when he shoots.
Understandably, these flaws aren't doing anything to change people's mind on Dwight. But in the interest of progress, next time you see that 6-foot-10 guy posing as Superman, try to keep an eye on all the plays he makes using the head on top of those cartoonish shoulders.