Yesterday the Heat did what they keep on doing, and that is win. LeBron James was magnificent down the stretch, Dwyane Wade and Chris Bosh fulfilled the promise of the SuperFriends and Erik Spoelstra, despite having half-a-zillion centers, went small and it worked.
The Heat will be extremely difficult for anybody to beat in a playoff series.
They've been rolling everybody lately, and usually by a large margin. (They're on the brink of becoming a team that averages double-digit victories. Kenton Wong of ESPN Stats & Research found that four teams -- Bulls, Bulls, Bulls and Celtics -- have done that since the NBA/ABA merger. They all won titles.)
Yesterday Miami won by seven, making this a fairly typical Heat game, as far as Hollinger power rankings are concerned.
Whom did they beat this time? Does it even matter?
Well, no. Not to you. But to me, yes.
See, last night while you were watching football, that team LeBron James stepped on was not just any team, but my team, the Blazers. And it wasn't just a seven-point loss, but a seven-point overtime loss.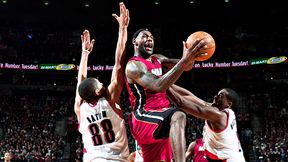 Sam Forencich/NBAE/Getty Images
Is there such a thing as an inspiring loss?
Andre Miller had two clean looks at mid-range jumpers on the final play of regulation. If either had found home, we'd be talking about blatantly the finest Blazer win of the season, from a team missing Greg Oden, Brandon Roy and Joel Przybilla's jumping ability. We'd be talking about a game that neither led by more than eight points, and that Portland led virtually the entire second half. We'd be talking about how LaMarcus Aldridge got his "man muscles" a couple of seasons ago, and his "man will" to use them this year. We'd be talking about Nicolas Batum's block.
That's not what happened, though. Credit the Heat with being simply better than a decent team having an amazing night. It's on the next game for the Heat, who have the Clippers, Nuggets and Bulls left to face on this road trip.
Meanwhile, I'm left with an uncomfortable feeling: Oddly, I'm not all busted up over the loss. I'm fired up at almost winning. I can't help it. That Blazer performance was thrilling, no matter how it ended.
Which in some ways is weak. I get it. How bad is your team if one of their season highlights is a loss? Fans of contending teams, I realize, never do that.
Are the Heat that good? Like Michael Jordan in his Bulls heyday, where almost beating them is exciting enough? (And if you're in the business of telling everyone how amazing your opponents are, isn't there a slippery slope between you and those guys who posed for pictures, midgame, against the Dream Team in Barcelona?)
Look, none of it is great for me as a Blazer fan. The loss. The implications. The injury-marred season.
But who cares about all that? I watched my team play a hell of a game. The highlights are still ringing in my head. I'm smiling today.