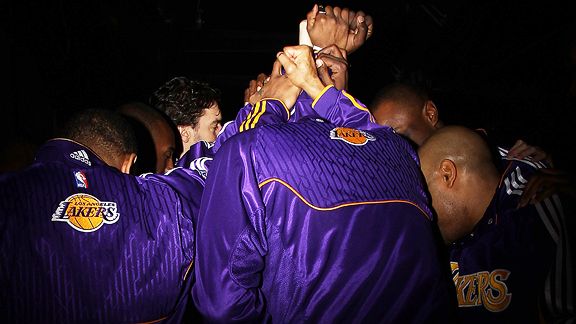 Ronald Martinez/Getty Images Sport
Don't let talk of age and poor effort fool you. The Lakers are fantastic.
Later today I'm going to join Red94's Rahat Huq on a podcast, and he was nice enough to send over some of the questions in advance.
One of them was simple as simple could be: Who's my pick to win this year's title?
Simpler to ask than to answer. I've been stressing it a little.
I picked Miami before the season, but back then Udonis Haslem and Mike Miller were healthy and easy to project as mainstays. More importantly, nobody knew then that so many teams would be in that lead pack.
It's one thing to pick the Heat to make it past the Celtics. It's another thing to pick them to make it through, potentially, the Magic or Bulls, followed by the Celtics and then the Lakers. (Side note: Holy cow are these going to be some juicy playoffs.) When faced with three or even four fairly evenly matched seven-game series, things like luck and health start to play huge roles.
There are arguments for all kinds of teams, in no particular order:
The Spurs have been very healthy and almost nobody (except the Hornets) seems to have any clue how to beat them. They have by far the league's best record. Their key players have all been there many times before. Their young players are high energy and efficient. They've won titles with worse teams.

Ever since Kevin Garnett arrived, nobody has ever cruised past the Celtics. Every playoffs they are either the champions, or the world's toughest out. They concede absolutely nothing.

The Magic have been right near the top of John Hollinger's power rankings lately, which factors in things like the quality and size of wins and losses. Ignore that at your peril.

The Bulls' success has been built on Tom Thibodeau's defensive system, something they are doing for the first time this year, and at which they may well improve as the season goes on. Also, they have been without Joakim Noah, one of their best defenders. Not hard to imagine they'll be getting better, and they're only a small uptick from being right there with the East's best.

The Hornets have arguably the league's most efficient player in Chris Paul, and its most efficient defense. Coupled with a knack for beating the Spurs, that's something.

The Mavericks have plenty to worry about with Dirk Nowitzki looking hobbled, and Caron Butler recovering from surgery. But at full-strength, they're undeniably top tier.

Laker fans have been disappointed at various times this season. Jerry West is talking about an old team, and Phil Jackson is not correcting him. There has been a lot of talk about lack of effort. But despite all of that, consider that as of this moment, and by a slim margin, John Hollinger's playoff odds give the Lakers the greatest likelihood, of all 30 teams, of winning the title. There would seem to be no chance we have seen the Lakers' best basketball of the year, so ... are they the favorites?

That leaves the Heat, who have been a miserable disappointment, a devastating juggernaut and a middling adolescent, all in a few months. They've proven that those three stars can play well together. They have not proven they are unbeatable.
Put it all together, and what do you get?
Who the heck knows?
I'll probably stick with the Heat, 'cause Haslem will return, they're likely still improving, no other team has been in a class above them, and ... nobody likes a flip-flopper. But I have a few hours 'til Rahat calls to mull it over.