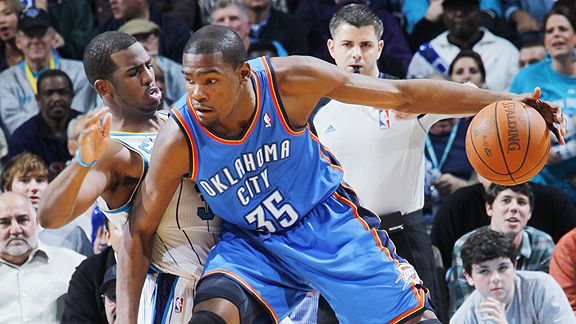 Layne Murdoch/NBAE/Getty Images
Kevin Durant scored zero points in the fourth quarter of a two-point loss to the Hornets on Monday.
Coming into this season, Kevin Durant was the runaway pick to win this season's MVP. He has been splendid, but is nonetheless (thanks to the emergence of Russell Westbrook and more misses than normal) generally now seen as not even the MVP of his own middle-of-the-playoff-pack Thunder team.
He has still been a highlight machine at both ends of the floor, and his PER is, at the moment, 13th in the league, slightly ahead of MVP candidate Derrick Rose's rating.
It's unclear if there's any blame to go around. Maybe Durant is just fine.
But this lull in his meteoric rise does not work out so well for Team USA. Durant, of course, worked his tail off last summer as the MVP of the world champions.
Players have long suspected that an offseason dedicated to the national team would take a toll on their NBA performance.
Does tough competition in August slow you down in January? No way to really know. Research on that topic has been inconclusive either way.
But the perception that it might has been enough to keep a lot of the best NBA players from competing for their national teams, which is a shame. You could make a strong argument that the best thing that ever happened for the NBA was the original Dream Team in 1992. That is, essentially, what made this game global. And that globalization has been a key to revenues and growth ever since.
You can't stick Michael Jordan out there anymore, but who wouldn't want to watch some combination of Kobe Bryant, LeBron James, Chris Paul, Dwyane Wade, Dwight Howard, Amare Stoudemire, Blake Griffin, Durant, Rose, Westbrook, Carmelo Anthony, Kevin Garnett, Rajon Rondo, Lamar Odom etc.? The national team could be a lot more than it is, and that would be great for basketball.
The biggest obstacle to more meaningful player participation is not the Team USA schedule, of course (it's fairly light) but the NBA schedule, which is a real bear. Roughly one zillion times I've written that the number of games ought to be reduced. But so long as money is tight and owners won't give up those revenue opportunities, here's another idea: How about simply giving players a vacation?
Let's say you're a big Durant fan. Doesn't some big part of you hope he'll just skip All-Star Weekend and head off to the Bahamas? Don't you believe, in your bones, that if he did that, he'd be better for it in the playoffs? It's hard for me to believe that a week of free time wouldn't help immensely, however he chose to spend it.
I say: Let Durant go to the All-Star break, and then take a week in the Caribbean.
And if it has a chance to make him perform better later in the season, it's worth it. People are tuning in to see the best athletes at their best.
Forget the wear and tear on bodies, and their rate of recovery. Just think about the stress. When you're on an NBA court, your dignity is at stake at every second. You also get beat up in various ways all night.
I'm not arguing that NBA players don't have any down time. But they get it in crappy, useless increments. A few hours in a hotel in a strange city is not a real break.
I'm arguing that boarding a plane with friends and family for five or six days in February does something real that is built into most American workers' lives. That's the kind of thing anybody could appreciate.
In football, it's called a bye week.
The schedule, of course, is already packed, so adding a vacation after the All-Star break would mean robbing a few days from the excessive exhibition season, perhaps, or even starting training camp a week earlier.
Also, have you noticed that most teams are unofficially starting training camp weeks early anyway? So long as players (those not on the national team, that is) are already reporting to their NBA cities in early August, what's the difference? Just start camp earlier if you must.
These are the kinds of things that normally can't even be considered, but as it's time to negotiate the CBA anyway, now's the time.
I can't see who'd really be against a vacation for players midseason. My best guess is that we'd see better playoff performances, and possibly even a better national team.