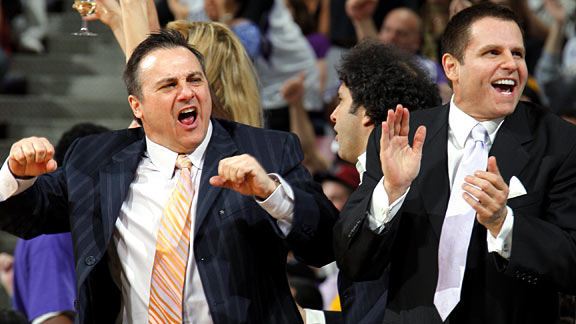 Rocky Widner/NBAE/Getty Images
In happier times, owners Gavin and Joe Maloof lived it up on the Kings sidelines.
Joe and Gavin Maloof, the brothers who own the Sacramento Kings, are hopping mad that the city of Sacramento has interfered in "their business."
Their business, in this instance, is removing their team from Sacramento.
On Cowbell Kingdom, Kings blogger Zach Harper takes exception to the phrase, pointing out that the city, and its basketball fans, have loved and supported the Kings more than they deserved. It's a must read. Harper writes:
At the end of the day, you're going to do what's best for "your business" in terms of financial success. This isn't really about basketball. It's just about making money, and that's your right as a business owner.
Making money is indeed the issue. And how you feel about this probably comes down to how well you think the Maloofs are doing right now.
If you think they're rolling in cash, then why the heck would some richies cleave a team from a city just to make even more money? Cruel.
If, on the other hand, you think they're struggling to keep afloat, well then most people understand that desperate times call for desperate measures.
Forbes digs into this now and again, and based on the publicly available information and some guesswork they suggest the Kings have lost about $13 million over 2009 and 2010 after several years of profit, and that the team is now worth $293 million.
It's tough to know the real truth. The NBA has a model which is built for good times: Owners keep their finances a secret, and every few years they squabble with the players over how to divvy the profits.
But that's a good times approach. Playing those cards so close to the vest is brilliant when they're good cards, and you're not asking for help. Now, however, an increasing number of owners are approaching the world with a "no really, we're totally losing money and need your help" kind of approach.
There have long been trouble signs. Sacramento is not nearly as big and rich as most NBA markets, for starters, and their arena is outdated and lacks both the amenities that drive the NBA's biggest profits and the big corporations to buy them. Since buying the team the Maloofs have showed signs of financial distress. They folded their WNBA team, the Monarchs, for instance. They laid off a number of team employees in 2009. They lost their arena's title sponsor, Arco, and before that other customers like Southwest Airlines and Quest communications. Thanks to their Palms Casino and Resort, the Maloofs are among the highest profile investors in Las Vegas, which has been one of the recession's most severe victims. (In the Sacramento Bee, Dale Kasler and Tony Bizjak write that "while their finances are private, a minority shareholder in the Maloofs' Palms Casino in Las Vegas said the casino is now worthless. Bloomberg news said the Palms could be taken over by creditors.")
They have tried many things that have failed. In 2006, their major play to get public support for a new stadium failed miserably at the polls. In the intervening years, even David Stern has washed his hands of the process, calling it unworkable.
The Maloof family fortune has long derived from a company that controlled a huge chunk of the beer sales in New Mexico, but they sold Maloof Distributing in 2010.
I can't help but wonder if the best move might be to radically increase transparency. Whether it's seeking help to build an arena in Sacramento, or explaining away their departure, the Maloofs will be forced to get some broad buy-in for whatever Hail Mary play they're going to call next. Hail Mary plays never make sense to people who don't realize it's fourth-and-long.
And realize that how you see the Maloofs has more than a little to do with how you'll see the looming lockout. The NBA will swear on a stack of tax returns that the bottom lines of the 30 teams are, taken together, not pretty. The annual losses, combined, are around $350 million, they say. And the Players Association does not exactly dispute those numbers, but says that those balance sheets don't tell the whole story, and that there are vast other benefits to be had.
Are those other benefits worth more than $350 million league-wide? Or might NBA owners, like the Maloofs, really be feeling the pinch? It's a big question, with real answers. Too bad those answers are secret.