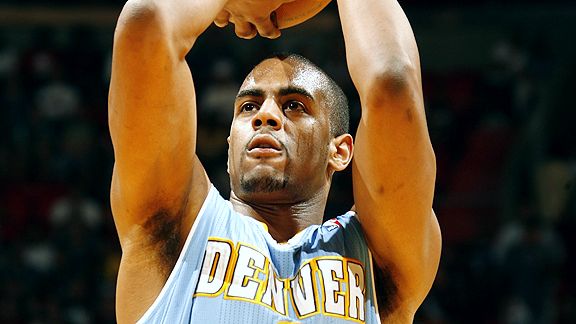 Issac Baldizon/NBAE/Getty Images
The Nuggets are on a tear, and their super efficient shooting guard has improved four straight years.
Arron Afflalo has long prided himself on his defense. As a player who entered the league with plenty to prove, aggressive D was his preferred method of convincing coaches to notice. Defense is the key to playing time, he says, "unless you're a high draft pick, or somebody who's known for coming in and scoring a lot of points."
In other words, unless you're something of a legend.
Which, in a funny way, is precisely how Afflalo arrived in the NBA.
In the course of growing up as a shooting guard in Los Angeles, and starring at UCLA from 2004-2007, Afflalo developed no small amount of admiration for Kobe Bryant.
In predraft interviews, executives say Afflalo talked like a superstar. Executives were blown away by Afflalo's excessive confidence, complete with talk of making the Hall of Fame, patterning his game on Bryant and the like. That kind of talk is great -- from stars. But all indications were that Afflalo was on a course to be a role player. Delusions of grandeur among role players is a leading cause of NBA failure.
Some teams were turned off. The Pistons drafted the All-American (who just missed two NCAA championships courtesy of the Florida Gators) 27th, at the tail end of the first round.
Two years later, the former first-round pick was traded to Denver -- with Walter Sharpe and cash -- for a measly second-round pick.
But there's more to the Bryant legacy than tough talk. There's also an off-the-charts work ethic. And Afflalo got that, too. Finishing up his fourth NBA season, he's a full-time starter who has been improving for four straight years.
Nursing a hamstring injury since early March, he has nonetheless posted career best numbers in key categories that reflect an offseason spent away from fun, and in the gym.
Afflalo's true shooting percentage -- which accounts for his shooting from 2, 3 and the free throw line -- has improved four straight years and is now third in the NBA, trailing only big men. His assist rate and PER are the highest of his career. He's shooting a career-best 85 percent from the free throw line, and making 43 percent of his 3s. Turnovers and fouls are at career-low rates.
The key to Afflalo's offensive efficiency is built on quick decisiveness: Take the open shots without hesitation, otherwise move the ball crisply. Since the Carmelo Anthony trade, that approach has defined the entire Nuggets team, and they've been playing elite basketball. Afflalo, who says he "should be good to go" against the Kings tonight after sitting out with a hamstring injury, tells TrueHoop the game is more fun this way:
How'd you first learn about the Carmelo trade?
I saw it on the breaking news during All-Star Weekend I believe. I was just listening along with everybody else.
And when you saw who you were getting, did you think you'd be this good?
Of course that's tough. Hadn't really played with the guys -- it's so hard to judge that. But at the same time, we did know we were getting somewhat legitimate talent. You know if things went well as far as our chemistry -- really just share the ball and play together -- that we would be fine.
Now that you do know them, are you thinking a little bigger? Or is this just a young team going on a nice little run, and that's that?
Honestly, I just think the organization and the guys that were here alongside Melo and Chauncey and all those guys that left, they expected to win. The guys that came over with us, they expected to win too. So I don't think, because of the trade, either team, at the time, didn't have aspirations of winning it all.
Post trade deadline, on the Nuggets, who has the ball in their hands at crunch time. Is it Ty Lawson?
Yeah, either Ty or Raymond [Felton]. I'm not sure who gets the shot, or who gets the play drawn up. But you have to feel comfortable with the ball in the point guard's hands at least initially. As the shot clock winds down, and it's time for the shot to go up, that probably will vary. And there are certain guys who are dreading those moments, so I'm sure coach will have a good feel for who should have the ball at that time.
Do you subscribe to the theory that teams need "that guy" to take those big shots? Or can it be done by committee?
Umm, I don't think you have to have one designated guy. You've seen it in sports. Some guys are just better at it. But that doesn't mean the next guy can't get it done.
We have a lot of those guys. I'm fully confident in myself. There's different players on our team now who, when put in that position, feel like they would succeed. It's just that Melo had established a tradition, with him being here so long, and you know Chauncey established that over a long career, those are just the two initial guys people looked to before the trade went down. But that doesn't mean we can't get it done when a big play needs to happen.
How many game-winners have you hit?
In the NBA, or just period?
Well, I know you had some big ones in college.
I guess in the NBA as far as at the buzzer, literally with the horn going off, just one. But I've hit a lot with ten seconds or under that were really really important.
That's just got to be the best feeling, huh?
It really is.
Is Coach Karl doing anything different now?
He's the same. He's the same. I just think we have a younger team, so he can do a little more teaching. When you've got more of a veteran team, it's more just about making sure guys are doing the right thing. But when you've got a 13-year point guard, an all-star, a ten-year veteran and myself out there to start the game, there's not a whole that needs to be said. Guys of that caliber should know what to do out there on the court. It's kind of his job to kind of make sure the ship just keeps going straight.
Now he's doing more teaching, just because we have young guys who are eager to learn.
We like the story of teams coming together and sharing the ball. Chicago is like that. The Florida team you played in college. Being that kind of team, that socializes together, and like each other as friends ... is that better? Does that help you win more games?
Yeah. I just think that's the way the game should be played. People talk about playing the game the right way or the wrong way. That's just a matter of opinion.
But there is a certain style of basketball, and a certain mentality, a winning mentality, a team mentality, or a defensive mentality, that has proven to be most successful at this level.
You just look at the past champions, with the Celtics, and the Lakers and the Spurs, there's just a certain style of basketball that gets played on winning basketball teams.
Is it more fun?
It is. It is. Because you just feel like you have your opportunity to be your personal best, and at the same time have a winning attitude about it. It's a lot less individualism. It's hard to find at this level.
Have you established a goal for this season, as a team?
Just to win.
Not this round of the playoffs or anything?
I don't think any playoff team has aspirations to just make it. Well, maybe some teams do. But we don't. The plan isn't just to make it. The plan is to compete and win. That has a lot to do with the pride and the personnel actually on this team. I can't say it's an overall success story, like if we don't win a championship everybody would be mad. For the guys that are in that locker room, we expect to win.
Have you seen power rankings where, lately, you guys have been ranked near the very top of the whole NBA?
No. I don't think so.
That sounds a little too high?
It's hard to judge. Obviously, we have played well. But a lot of that stuff depends on matchups, the longevity of the season and injuries and things like that. So, you know, that's why the playoffs are so special and different. It's just a matter of timing. If you have healthy guys and you're playing well at the right time, I mean, usually the best team will win, and that's how it should be. That's the importance of a series. But you just never know.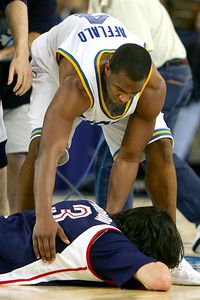 Jed Jacobsohn/Getty Images Sport
After ushering Gonzaga out of the tournament, Afflalo crossed team lines to console Adam Morrison.
You were one of the players who helped Adam Morrison off the court when he was crying after you eliminated him from the NCAA tournament, right? I was a little surprised that that was seen as controversial, or so exceptional. Did it feel like a normal thing to you?
I mean, at the time ... you don't like to see anybody go out like that. He had such a great college career.
I obviously don't think about that during the basketball game. I'm out to kill. But you know, once it's done, it's done. It is a sport. And it's an emotional game. You want to be there for your teammates, but at the same time you want to have high character in how you celebrate and what you do in tough moments for your opponent. Just have a little class about how you approach the game, even when it's done.
There's kind of a macho code, though, isn't there? I know there are plenty of coaches who would say: Don't go console the other guy.
Yeah, I mean, that's just me as a person. I think. Trust me it doesn't carry over at all during game time. But it's OK to be there for somebody once that clock has expired. You would expect it from someone else too.
So, this past summer, you didn't go to L.A. for the summer, right?
No, I didn't. I went home for a very short visit. But you know, I knew that my opportunity may be slightly better this year than even last year. I had a lot different things at stake, for me personally, and for our team.
Is this a contract year for you?
It is.
And you've got the lockout to worry about too, I guess.
We'll be fine.
I think last year, in my third year, and having somewhat of a significant role on the team as a starter, was really the first year in the league I was really really disappointed about how the postseason ended. I'm a competitive player, but my rookie season I didn't play a whole lot. We got somewhat of a lot of dysfunction my second year. So last year was really a tough year to just lose in the playoffs, how we did, to Utah. This year I was just really really motivated.
Were you working with [Nuggets strength and conditioning coach] Steve Hess?
Yeah, I worked with him, and I worked with the coaching staff. But I did a lot of stuff on my own. Those guys like their offseason as well. There were some coaches and things, around here who do stay in Denver in the offseason, and they were all available.
Why is it easier to work in Denver?
Isolation. Me being from L.A., and obviously the city itself ... it wasn't tough for me to be disciplined and to stay away from distractions. Friends, family, entertainment. I didn't have a choice but to deal with work. It's easier to stay focused.
Are you single?
Yeah.
So you were really, like, alone for the summer.
Yeah.
That's intense.
It was. [Laughs]
What's motivating you?
I just take pride in being a complete player, trying to win games, and becoming a leader. ... I enjoy winning. It's fun.