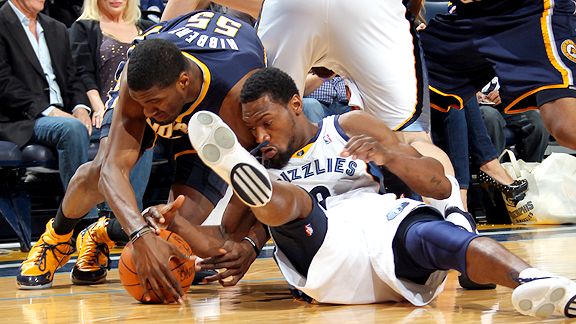 Joe Murphy/NBAE/Getty Images
If you like havoc, you'll love Tony Allen.
What do you really love about basketball? What are your favorite moments? When are you most thrilled?
I love a lot of stuff about the game but way up high on the list is: relentless scrap.
John Hollinger feels it too. The other day he wrote about Tony Allen:
Allen is a rarity -- a player who is a must-watch strictly for his defense. Individually, obviously, he was a total monster, including the single best defensive possession I saw all season in a game against Oklahoma City -- he had two deflections and a blocked shot at the rim on one trip, and the amazing part is that he'd rotated outside the 3-point line between each.
A lot of what's great about the NBA is that, unlike high school and college players, these guys have been there and done that. They're not thrilled to be there. They're not running around like chickens with their heads cut off. They're mature adults and they act like it -- most of the time.
But some NBA players go crazy with the activity level anyway. Some guys play too hard, approaching the point of insanity. They launch themselves around the court, their centers of gravity fast and horizontal. They are "sandpaper" to opponents. They make plays the coach did not draw up. They contest dunks, YouTube be damned. They reject your claim to that loose ball. They spill the drinks of the people sitting courtside, and sometimes the blood of those who come between them and the ball.
Thrilling.
(In looking for a photo to put atop this post, I asked for help on Twitter, and people quickly came up with all kinds of great suggestions: So many great photos of scrappiness.)
There is not a lot of money in this, generally, but there are Tommy Points, loose teeth, injuries and rugged glory. In their way, these guys are heroic. I appreciate the hell out of their work, so as a tiny thank you for the effort, we're naming the first-ever roster of TrueHoop Scrappers.
After serious consultation with people who watch a ton of games -- among them ESPN.com's Kevin Arnovitz and David Thorpe, and the TrueHoop Network's John Krolik, Dan Feldman, Graydon Gordian, Tim Varner, Kyle Weidie, Royce Young, Breene Murphy and Mike Schmitz -- we have come up with a list of 28 nominees for the 2010-2011 TrueHoop NBA scrappers.
We'd like you to vote, to pick this season's starting five by clicking here. The nominees:
Tony Allen, Memphis Grizzlies

Reggie Evans, Toronto Raptors

Joakim Noah, Chicago Bulls

Ronnie Brewer, Chicago Bulls

Gerald Wallace, Portland Trail Blazers

Kevin Garnett, Boston Celtics

Tyler Hansbrough, Indiana Pacers

Kyle Lowry, Houston Rockets

Arron Afflalo, Denver Nuggets

Anderson Varejao, Cleveland Cavaliers

Dejuan Blair, San Antonio Spurs

Rajon Rondo, Boston Celtics

Kenyon Martin, Denver Nuggets

Grant Hill, Phoenix Suns

Luc Richard Mbah a Moute, Milwaukee Bucks

Manu Ginobili, San Antonio Spurs

Nick Collison, Oklahoma City Thunder

Zabian Dowdell, Phoenix Suns

Courtney Lee, Houston Rockets

Ron Artest, Los Angeles Lakers

Al Horford, Atlanta Hawks

Corey Brewer, Dallas Mavericks

Mario Chalmers, Miami Heat

Chris Paul, New Orleans Hornets

Chuck Hayes, Houston Rockets

Blake Griffin, Los Angeles Clippers

Othyus Jeffers, Washington Wizards

J.J. Barea, Dallas Mavericks