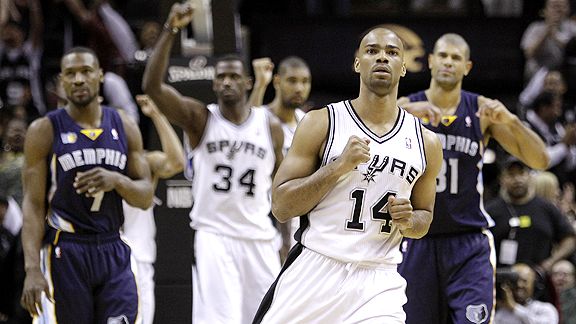 AP Photo/Eric Gay
Gary Neal savors the 3-point shot that saved the Spurs' season.
SAN ANTONIO -- A year ago, Gary Neal was shooting jump shots in Malaga, Spain. Playing for Spanish club Unicaja Malaga, he was a long way from the NBA playoffs.
Twelve months later, Neal is the man largely responsible for helping the San Antonio Spurs avoid elimination for at least a couple of nights. Neal hit a 3-pointer as time expired in the fourth quarter Wednesday night to send San Antonio's game with the Memphis Grizzlies into overtime. The Spurs went on to win 110-103 and cut Memphis' series lead to 3-2.
It's been a long road for Gary Neal. It took two colleges, several European teams and a summer league stint for the 26-year-old to make his way to the NBA.
"It was mid-September and I was working out and he showed up one day," Manu Ginobili said after the game. "They told me that this was the new shooter we had. I'm not lying when I say that I saw him miss the first 20 shots he took."
Neal went on to become a valuable shooter off the bench for the Spurs, averaging 9.8 points per game in his rookie season and shooting 42 percent from 3-point range. Neal was even named to the rookie team at NBA All-Star Weekend. In the playoffs, Neal's averages have dipped to 7.8 points per game and 38 percent from 3, finding open looks hard to come by against the Grizzlies' swarming defense.
But when San Antonio's season came down to one final play during Game 5 on Wednesday night, the Spurs facing a three-point deficit with 1.7 seconds left, coach Gregg Popovich turned to Neal. Popovich drew up a play to get Neal the ball at the top of the key and find space for a shot.
"I think it was a very good call by Pop," Ginobili said. "It was the kind of play that's designed for him to take a shot like that because he's the one with the quickest release."
With Ginobili inbounding the ball, Neal lined up on the opposite side of the floor. Spurs big man Tim Duncan curled around the free throw line and set a down-screen for Neal. Neal cut to the top of the key and gathered the pass from Ginobili.
O.J. Mayo, who was defending Neal on the play, lost his balance slightly trying to tip the pass away. Neal turned, swung the ball through and took a hard dribble to his right.
"Timmy had set a great screen, and the guy defending me was kind of behind me," Neal said. "I knew that he was going to try to overplay me, so I knew he was a little aggressive.
"My feet were directly under me, I had good legs, I got the one dribble, I had a good follow-through."
Falling away slightly toward the sideline, Neal was able to get a great look at the rim and sink the shot. It was one of the better looks the Spurs have gotten from 3-point range in the series and it came at an opportune time.
"You don't really think about the magnitude of making or missing it; you just think about trying to get the best shot you can get," Neal said. "It went in today, but I think that was best shot I could have got in that situation."
Despite admitting that the shot was the biggest of his career, Neal didn't seem fazed when discussing his number being called on San Antonio's most important play this season.
"It's kind of a great feeling; Coach Pop draws the play up and you see you're going to get the shot and nobody looks around and questions it or anything like that," Neal said. "It was great walking out of the huddle and your teammates are happy with you getting the shot and expecting you to make it.
"That's a great feeling."