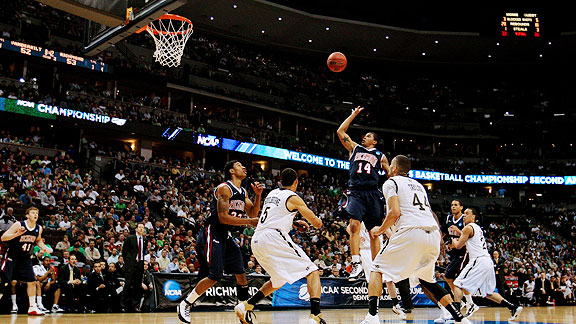 Justin Edmonds, Getty Images Sport
Kevin Anderson hit huge shots leading Richmond to the Sweet 16. Now he's hoping to be drafted.
Graduating Richmond Spiders guard Kevin Anderson is not on most draft boards. At 6-0, he lacks NBA size. And as a four-year college player, his story is less about potential than most. But his always-attacking style, inspired by Allen Iverson, has already earned him big wins, countless awards and NBA workouts. He will keep TrueHoop readers up to speed as he competes for a spot in the NBA.
Hello, My Name Is Kevin Anderson. You are cordially invited to follow me through my blogs on my professional basketball career journey.
First, let me bring you up to speed. I am a 22-year-old soon-to-be graduate of University of Richmond.
I am an only child born in Dallas, Texas. After my parents divorced, my mom and I moved to Atlanta, Georgia. My mother married my step dad in 2004 and now I have a 20-year-old stepbrother (who, coincidentally, is also named Kevin).
I grew up playing whatever sport was in season (football, baseball, basketball) but developed a special love for basketball. My earliest childhood memories always include a Nerf hoop hanging from my bedroom door frame. I would spend countless hours watching and imitating players such as Penny Hardaway (when the Magic had the all-star squad), Allen Iverson (in his "we talking about practice days") and of course Michael Jordan. (I watched "Space Jam" over and over again.)
My mom recalls a time when the two of us were watching an NBA game together and I asked her if one day I could play basketball on television; she acted as the reporter interviewing me after having a great game in the playoffs. (She does not think I know this about her but becoming a news anchor/reporter was kind of her dream job while she was growing up, so we were both acting out our dreams simultaneously.)
When I was in the fourth grade, my mom took me to basketball tryouts for a middle school feeder program. She didn't realize that the tryout was for sixth graders until we showed up, but decided to go through it anyway. After three days of cuts, I made the team.
Playing for a league with and against guys two years older than me made me determined to practice harder and more than anyone else. I felt like I had to prove myself all the time. When I was alone, I would practice in the driveway or garage and envision what I would do in the next game or practice. I would play one-on-one against myself a lot. I was always a foot shorter than most of my teammates and competition, which led me to carry a different mentality with me all throughout middle school, AAU and high school. After three years at a single-A high school, Whitefield Academy, I transferred to Peachtree Ridge High School in Duluth, Georgia.
Peachtree Ridge is a 5A school; it allowed me the opportunity to play at the highest level of competition as well as play alongside my close AAU friends, Cameron Heyward (2011 first-round draft pick of the Pittsburgh Steelers), Zach Graham (Ole Miss) and Bassey Inameti (Tennessee Tech). My one and only year at Peachtree Ridge, we finished the season as Region Champions! (Shout out to all my "old school" buddies who are working hard and putting our stamp on this world!)
I was being recruited by several mid-major programs my junior and senior years but when I was offered a scholarship from Coach Mooney at the University of Richmond the decision to accept felt like it was Heavenly inspired. We already knew the University was one of the finest in the country academically, so that part wasn't in question. The basketball program, in my opinion looked as if it was going to be a "work in progress" but that did not deter me from signing because I have never been afraid of hard work.
The season prior to my freshman year, Richmond had only won eight games. I was confident that I could be a big part of putting the Richmond Spiders back on the map. I had read about them being known as Giant Killers in the eighties and nineties. I wanted to be a part of something great -- not just play basketball for four years, get my degree and move on.
As it turns out, that has been one of the many blessings of my life. In my four years as a Richmond Spider, I have been blessed with many individual accolades; Atlantic 10 Rookie of the Year, Player of the Year, First Team twice, Second Team once, three preseason MVPs, tournament MVP, AP Honorable Mention, second leading scorer in school history.
Our team also went to the NCAA tournament my final two years and we finished my senior year in the Sweet 16. My college career was a blessing.
The night I took my final shot as a college basketball player felt like the wind being knocked out of me. The Alamodome seemed to go silent; although I knew the Kansas fans were cheering loud I couldn't hear anything. Looking at my fellow teammates and coaches and the realization that collectively we no longer shared One Goal was hard to take in.
It took a few days for me to collect my emotions and celebrate all that we had accomplished in our four years at University of Richmond. I allowed myself to embrace the fact that my four-year job interview was ending, and it was time to focus on what my future would bring. After participating in the Portsmouth Invitational, I went through my agent interviewing process and hired Sam Porter of Sportstars, which brings me to today.