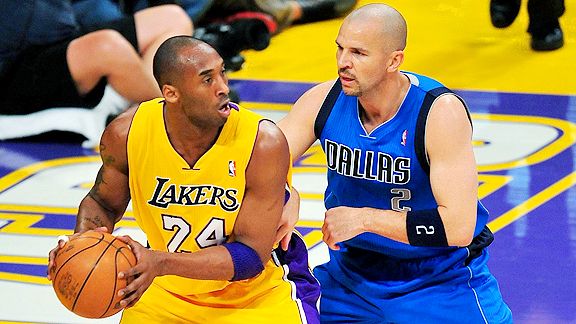 Gary A. Vasquez/US Presswire
Jason Kidd and the Mavericks have Kobe Bryant and the Lakers in a must-win situation.
The Dallas Mavericks return home for Games 3 and 4 of the Western Conference Semifinals against the Los Angeles Lakers. The Mavericks are 3-1 in a best-of-seven series when up 2-0, although the one series they lost was a big one, the 2006 NBA Finals.


As for the Lakers, they're 2-16 when down 2-0 in a best-of-seven series. Only three teams in NBA history have lost the first two games at home and come back to win a best-of-seven series, most recently done by the 2005 Mavericks. The last NBA champion to be swept was the Heat. Miami won the title in 2006, then got swept by the Bulls in 2007.
After an explosion of dunks in the first round against the New Orleans Hornets, Kobe Bryant has no dunks -- or layups -- in the first two games against the Mavericks. Whether it's his ankle or the Dallas' defense, Bryant has drawn only three shooting fouls, two of which occurred within 10 feet of the basket.
But Bryant's history has shown that when he is facing an uphill climb, he's going to try to shoot his way out of it.
Kobe Bryant in Game 3
Trailing 2-0 in Best-of-Seven Series
He's trailed 2-0 in a best-of-seven series seven times previously. In the ensuing Game 3s, Bryant averaged more than 27 field-goal attempts compared to an average of 20.2 overall.
Lakers coach Phil Jackson has stared at 2-0 deficits before, but success hasn't always followed.
The Hall-of-Fame coach has a 2-5 series record when his teams have fallen behind 2-0 in a best-of-seven.
On defense, the Lakers have not had an answer for Dirk Nowitzki. He's made 9-of-16 shots when guarded by Pau Gasol and 8-of-16 when Lamar Odom's been on him.
The defensive problems Nowitzki has caused the Lakers will only seem to worsen with the absence of Ron Artest, who was suspended for Game 3 for his late-game flagrant foul on J.J. Barea.
Artest was used sparingly as a defender on Nowitzki in the first two games of the series, defending him for a total of five plays this postseason.
But on each of those plays, Nowitzki posted-up Artest, going 2-for-3 from the field, drawing a foul and committing a turnover with Artest on his back.
Bench Production
Conference Semifinals
One thing to keep an eye on is if the Mavericks bench will continue to outplay the Lakers bench. The Mavericks are averaging 35.0 bench points per game in this series, the most among any team in the conference semifinals. The Lakers reserves, meanwhile, have averaged just 18.5 points in two games.