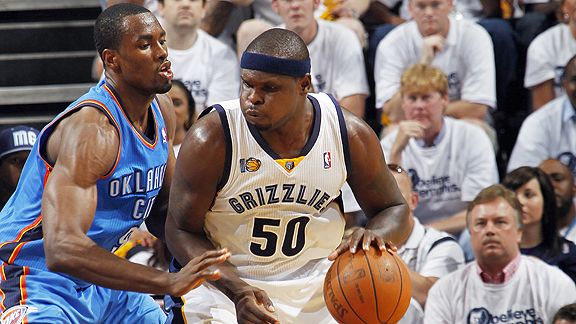 Layne Murdoch/NBAE/Getty Images
Serge Ibaka and the Thunder have Randolph shooting 32 percent over the last four games.
After Zach Randolph's 12-of-22 outing in the Grizzlies' Game 1 win against the Thunder -- less than 48 hours after the Memphis forward destroyed the Spurs in crunch time -- it was reasonable to ask if anybody could stop one of the playoffs' most efficient scorers.
The Thunder have more than a few big defenders, including Serge Ibaka, Kendrick Perkins and Nick Collison. If they couldn't slow him down, who could? Maybe the leftie with the soft hands was destined to carry the Grizzlies to the conference finals.
Since the end of Game 1, however, Randolph has made just 32 percent of his field goal attempts -- he has attempted 69 shots over the last four games, and made just 22 of them.
In Game 2, he was two of 13. Against the Spurs, Randolph averaged eight makes on 16 attempts. In Game 3 against the Thunder, he needed 22 attempts to make the same eight.
It took triple overtime, and 25 attempts, for Randolph to manage nine made buckets in Game 4.
In Game 5 -- quite possibly still fatigued from mighty Game 4 -- Randolph attempted just nine shots, making three.
It's not enough to predict doom for the Grizzlies. However, it is enough to suggest that the "the Thunder have no idea how to stop this guy" narrative after Game 1 was evidently premature.