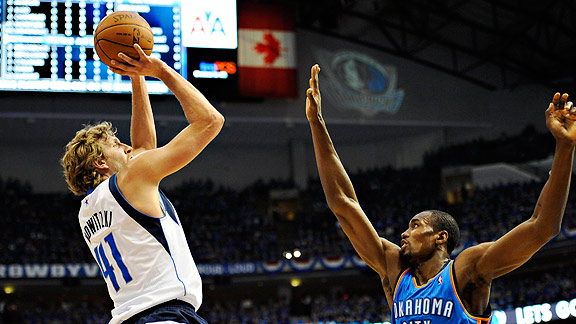 Jerome Miron/US Presswire
You could argue that Nowitzki's Game 1 was the greatest shooting performance in playoff history.
Dirk Nowitzki's 48-point game against the Oklahoma City Thunder in Game 1 of the Western Conference finals stood out not only because of the high point total, but because of the incredible efficiency with which he scored. He went 12-for-15 from the field and 24-for-24 from the free throw line in the Mavericks' 121-112 victory in Dallas.
One way to measure overall scoring efficiency is to use true shooting percentage, which resembles field goal percentage but takes into account field goals, 3-pointers and free throws to give an overall measure of how efficiently a player scored his points.
The NBA true shooting percentage average over the last 15 postseasons is 53.3 percent. (The league field goal percentage is 45.6 over the same span.)
While field goal percentage is based on the number of attempts, true shooting percentage is based on true shot attempts: FGA + 0.44 x FTA. This is an estimate of the number of plays that end in a scoring attempt by that player. All field goals count, and about 44 percent of all free throws account for unique scoring attempts.
Highest Playoff True Shooting Pct
Minimum 25 True Shot Attempts
According to the Elias Sports Bureau, there have been more than 2,500 instances of a player in the shot clock era (since 1954-55) taking at least 25 true shot attempts in a playoff game. Among those games, Nowitzki's 93.9 percent in Game 1 was the highest true shooting percentage, by far. Next closest was Vince Carter's true shooting percentage of 82.5 from his 50-point game in the 2001 playoffs against the Philadelphia 76ers.
Expanding the sample in which a player had 25 true shot attempts in either a regular season or playoff game since 1996-97, there are more than 8,500 such instances. Incredibly, Nowitzki's Game 1 is still the highest in that span, beating out Ray Allen's 90.1 mark from a 2002 regular-season game against the Charlotte Hornets, in which Allen scored 47 points on 15-for-23 shooting from the floor and 7-for-7 from the free throw line.
In simplest terms, of the more than 8,500 instances in which a player has had a lot of shots in a regular season or playoff game since 1996-97, Nowitzki's shooting performance Tuesday night was the most efficient of all of them.