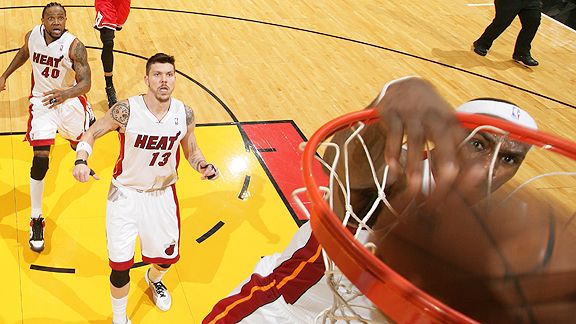 Victor Baldizon/NBAE/Getty Images
In addition to making the game's key stops, LeBron James scored 35 convincing points.
We knew LeBron James would spend some time guarding Derrick Rose, but we didn't know it would be quite like this: The two leading candidates for MVP, mano a mano, potentially with an NBA title on the line. Great stuff. TNT's Craig Sager said after the game that in the ends of the last three games Rose is two of 13 when guarded by James. 13 possessions proves nothing, but that's entirely in keeping with the season-long trends: they're both transformative offensive players. But James was my MVP because his defense is vastly better.

You can rightly blame Tom Thibodeau, in part, for Chicago's substitution patterns for this loss. The Bulls were so incredibly tired down the stretch, but not strictly because of Omer Asik's injury. It's also because of a lack of trust in his bench. Taj Gibson's longest stint of the entire game was less than five minutes, and he finished with just ten. Kyle Korver played about three minutes after halftime. Starter Keith Bogans played zero after the third quarter. C.J. Watson played less than seven minutes total (his counterpart Mario Chalmers, in contrast, played 21). Kurt Thomas was available and played zero minutes. Derrick Rose (49 minutes), Carlos Boozer (49), Jaokim Noah (45) and Luol Deng (44), meanwhile, looked gassed and missed shots accordingly. Despite overtime, only one Heat player -- LeBron James -- played more than 43 minutes.

Dwyane Wade made some big plays, but he's still not Dwyane Wade. He hasn't hit a 3 since May 7, and if you lock in on him, as I pointed out on Monday, his energy level is a fraction of what it was when Kevin Arnovitz wrote this after Game 2: "When you watch the Bulls' offense grind during these possessions, there's a single constant -- Wade was everywhere. When the Heat loaded up in the lane on a Rose-Boozer pick-and-roll, forcing a reverse pass to Luol Deng in the left corner, there was Wade flying in to close out on the 3-point attempt. When Rose tried to go left off a high pick and got a step on Mike Bibby, there was Wade coming to the rescue, putting his body in front of a driving Rose at the foul line, forcing a kickout. And when the Heat trapped Rose on a high screen-and-roll with Joakim Noah, who was there to rotate promptly onto the 7-foot-1 Bulls center even though he was giving up eight inches? Dwyane Wade. And not once, but routinely."

If I were devising offensive schemes, I'd go to some trouble to locate and exploit "help-minded" defenders. For instance, we know that Joakim Noah loves to help his teammates get stops. So when LeBron James drives, on the same side of the court with Noah, it's a good bet Noah will rush to help his teammate ... leaving Noah's man open for a backdoor cut.

Near the end of the first quarter Mike Bibby ran down a loose ball. He ran hard. Might have been his most athletic play of the season.

Did you notice that when Omer Asik first checked in -- before tragically re-injuring himself -- through some frenetic switching he spent several seconds guarding ... teammate Taj Gibson?

It's personal between Noah and James. Watch those two in Game 5. In the second quarter of Game 4, Noah was isolated on James and got the superstar to step out of bounds. As James reacted in disbelief to the call, Noah slapped the ball out of his hands hard, rudely, and inbounded it. Early in the second half, James blocked the living hell out of a Noah shot. Moments later, Noah led the break, found James as the sole defender to beat, and wisely dished off. Not long after that, James stuck a jumper over Noah, and early in the fourth James swing a hard elbow Noah's way to ward him off a rebound. There was yapping. There will be more yapping.

With about a minute left in the third quarter, LeBron James and Keith Bogans went down in a pile of violence. Plays that start like that end ugly. But as everybody crowded around to break up or join in whatever was about to happen, James did one hell of a classy thing, which is exceedingly rare in the playoffs: He enthusiastically helped Bogans up.

That Derrick Rose dunk approaching halftime ... might be the fastest any human has ever traveled while dribbling a basketball.

My main reaction to this game: Too bad Chicago didn't win. Why did I want that? Because I want this series to last as long as possible. It's a joy to watch.