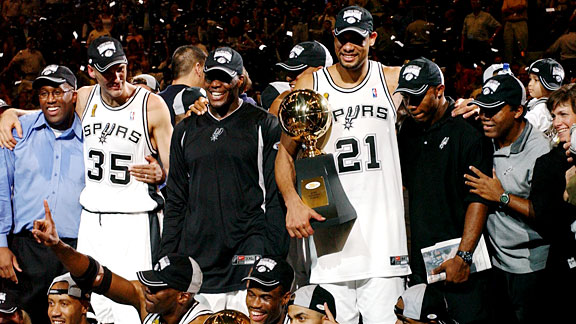 Noah Graham/NBAE/Getty Images
Mike Brown hasn't won a ring, they say. Really? And other myths ...
Since the Lakers fell apart against the Mavericks in this year's playoffs, it has been impossible to imagine anyone who could beat the expectations that come with that job at this moment.
Filling Phil Jackson's shoes is one of the smaller challenges.
The team has hitched its wagon to a "lead by example" leader, in Kobe Bryant, who not only no longer practices, but also has declining efficiency and a tendency to remind his teammates, publicly, that he will continue to shoot more than them regardless.
The best young player and hope for the future, Andrew Bynum, is bitter about team dynamics. The team's other star, Pau Gasol, has descended into various stages of sulking and huffiness. Also on the roster: Some of the nuttier forces in sports in Ron Artest and Matt Barnes, to go with nice guy -- but literal "walking reality show" -- Lamar Odom.
On top of that there is internal political intrigue, with lots of big decisions reportedly falling to the owner's son, Jim Buss, who commands the respect of just about nobody who'll speak on or off the record.
Add to that a Western Conference that is adding powerhouses by the week (hello, Grizzlies, Thunder and Mavericks).
That, my friends, is one insane collection of moving pieces to try to keep working together. The objective evidence is that even Jackson, a candidate for greatest coach in the history of team sports, failed spectacularly in keeping this bunch on the same page.
Meanwhile, the owners, the players and city fully expect to be in the Finals again next year. Anything short of that would be a disappointment.
So, yes, this is a job where just about any candidate could be expected to fall short of expectations -- who could be considered likely to succeed?
However, to look objectively at all of that and single out Mike Brown as uniquely underqualified ... it just doesn't wash. Consider the stories of Brown:
Myth: He has never won a ring.
This is technically incorrect -- he got one as an assistant coach in San Antonio in 2003.
Nitpicking aside, rings are a dumb way to measure talent. Every decade, thirty teams play, and they each have a coach. That's 300 seasons of coaching. Are you telling me that, out of those 300 years, only ten seasons were really good? Do we know that Tom Thibodeau, George Karl and Gregg Popovich were lacking this season?
The truth of the matter is that you can coach essentially perfectly and not win a title -- the title does more than select the best. It selects the best who are also lucky.
Mike Brown had five seasons as the Cavaliers' head coach. He had poorly constructed one-star rosters every single year, and still managed a 42-29 record in the playoffs and a trip to the Finals.
Over the same period, Gregg Popovich's Spurs have been 37-28 in the playoffs, with one Finals appearance and a title.
Phil Jackson is in a class by himself of course, and has won two titles and another conference championship over those same years. But even he has managed only a mildly better playoff record than Brown, at 50-29 compared to 42-29.
Entirely unfair, but worth noting: When Jackson coached a "superstar and a bunch of scrubs" roster like Brown had in Cleveland, the Lakers lost in the first round both times.
Myth: He coaches a terrible offense.
In 2009-2010, the Cavaliers had the sixth-best offense. Take it away, Cavs: The Blog's John Krolik, talking to Land O' Lakers, who has watched an insane amount of Mike Brown ball:
They had a better offensive efficiency mark than the Lakers did in '09-'10, and finished one tenth of a point per 100 possessions in '08-'09. Brown developed a reputation as a bad offensive coach when his starting backcourt was Eric Snow and Larry Hughes.

Show me a coach who can run a good offense with that backcourt, and I'll show you a miracle worker.
Myth: He can't control his star.
Phil Jackson could not have been more clear, in his book and other comments, that he did not want Kobe Bryant taking crunch time shots while covered, and especially not against double teams, when he had teammates open. And yet Bryant continued to break plays to take those shots anyway. For just about his entire career, Bryant has been setting an all-time record for crunch time shots attempted.
The essential tension of the Lakers in recent years has been an ongoing struggle to get the ball to effective big men Bynum and Gasol more.
Put that all together and you have just about perfect proof that Jackson simply couldn't get Bryant to jump when he said jump. Instead, the coach and the star made certain accomodations for each other, like business partners everywhere do when each has leverage.
Meanwhile, yes the Cavaliers ran a LeBron James-centric offense in Cleveland. But what were they supposed to do -- dump the ball into Anderson Varejao in the post?
The question is not: Is Brown uniquely unqualified to control a star? The question is: If not Jackson, who does have push-button control over NBA superstars?
Myth: LeBron James had him fired.
The Cavaliers did fire Brown in the throes of the LeBron James free agent extravaganza last summer. But sources insist James never had anything but respect for Brown, the move was made without James' input, and if anything it hurt the Cavaliers' chances of retaining James.
The man who was once accused of being fired by one superstar is now, interestingly, evidently being hired without the input of another.
Put it all together, and the Lakers got a guy who, as one of the youngest coaches in the league, took over a flawed roster and won just about as much as anybody ever has. It's hard to predict a smooth road for Brown, but it's also hard, or impossible, to name any available coach more likely to succeed.