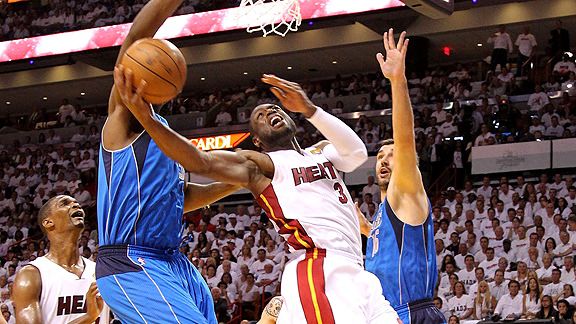 Mike Ehrman/NBAE/Getty Images
Early in Game 1, Dwyane Wade lacked explosiveness, and was blocked often.
With a minute and a quarter left in Game 1 of the 2011 NBA Finals, the Dallas Mavericks trailed by eight and needed a perfect play. Point guard Jason Kidd fired up a 3-pointer, which missed, bouncing to Dwyane Wade on the baseline. The Dallas Mavericks needed that ball, and Wade bobbled it a bit; desperate Mavericks swarmed. Wade took some time to secure the rock, looked down the court and noticed some open space.
Wade spun to the middle of the floor. And then he flew. Right down the middle of the floor, head bobbing, legs pumping, arms swinging -- leaving Mavericks in his wake.
It was the first moment of the entire game when Wade was clearly the most athletic guy on the floor. And after Wade's nifty dish to Chris Bosh, and a niftier avoidance of charging into Kidd, it was also the first time the Heat faithful began tossing assorted white things -- paper, plastic bags -- from the upper deck. After that play, the game was essentially over, and Wade, evidently, was back.
Wade had closed the Eastern Conference finals with three straight outings that featured not just some of the worst production of his playoff career (three-game totals: 15 turnovers, six assists, four steals) but also -- to my eye -- an unprecedented amount of aimless drifting. He had denied several times that he was injured, but something seemed to be happening. I had resolved to watch Wade every second of this game, to see if Dwyane Wade was playing like Dwyane Wade.
And though what will be remembered most from his Game 1 performance are a pull-up 3, an alley-oop pass to LeBron James and a block of Shawn Marion (to go with 22 points, 10 rebounds and six assists), this game was a mixed bag for Wade. He certainly was also the game's leader in walking and standing around, and even when he was more active than that he often exhibited limitations. For instance:
Wade was blocked three times in the first half. Shawn Marion, Brendan Haywood and Jason Kidd took their turns.

Several times in the early going, Wade had opportunities to attack the lightly guarded paint. And almost every time his approach was slow and timid, often leading to blocks or missed opportunities. At one point he was alone under the hoop with only Dirk Nowitzki to beat, but didn't even get a shot off. A few minutes into the game, Wade had a wide lane to drive to his right, but pulled up instead and lofted a soft shot that was easily snuffed by Marion. One fast break ended with Wade barreling into Tyson Chandler's torso and losing the ball. Another found Wade attacking three defenders by jumping ... and landing, having missed badly. The play called for him to go above the rim. Like so many weekend warriors at the local Y, he had found himself stuck well below it.

Two defensive lowlights: On one of the first plays of the game, Marion drove. Instead of hustling to cut him off, Wade carelessly reached to foul. Later in the game, Wade "chased" DeShawn Stevenson as the Maverick guard curled around a screen -- and fell woefully behind. After some passing and defensive rotations, the mistake led to a foul on James.

The ball tumbled to the floor near Wade and two Mavericks. The three dove for the floor, in a race. Wade's dive was the opposite of reckless, and he came in third, by a long shot.

On offense a lot of his game was simply standing beyond the 3-point line. Even at that he was passive, often passing up open 3s ... once to pass to Mario Chalmers in the corner, even though Chalmers was well-covered by Marion.

Immediately after replacing James early in the second quarter, Wade was doubled, had his shot blocked, and then chased down the loose ball as it headed for the baseline. He caught up to the ball and, before sailing out of bounds with it, wheeled in the air to fire the ball off the nearest Maverick. But Jose Juan Barea caught Wade's fling and steamed the opposite direction, leading to two Nowitzki free throws to take an early lead.

Even after Wade scored a couple of times in the third, and seemed to be warming up, the Heat called a series of plays for Wade. Two featured fruitless dribble probes, one ending with a bail-out pass to Bosh, who rushed a long, doomed jumper at the shot buzzer.
There were plenty more plays when Wade did little -- perhaps most telling of all is the number of plays when Wade did nothing worth noting at all.
Which all adds up to ... what exactly?
Two ways this can be taken:
Wade's not at his best, and is forced to pick his spots, which ought to be a source of worry for the Heat -- because he could be dogged by whatever it is again.

Wade's not at his best, and is forced to pick his spots, which ought to be a source of worry for the Mavericks -- because clearly he could be much better.