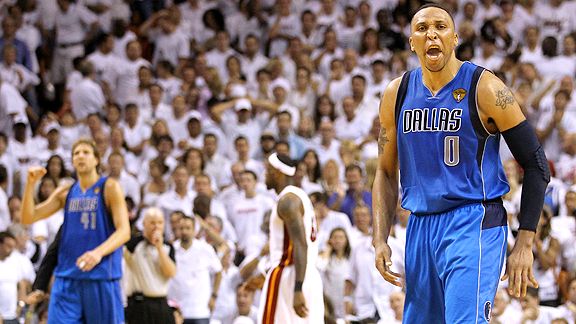 Ronald Martinez/NBAE/Getty Images
The Mavericks' rugged defender has been efficient on offense lately too.
Two short lists and an apology:
List #1: Brandon Roy, LaMarcus Aldridge, Kobe Bryant, Russell Westbrook, Kevin Durant, LeBron James, Dwyane Wade -- just some of the players Shawn Marion has guarded on the Mavericks' 13-4 playoff thrill ride to this point of the Finals.

List #2: 26 points on 17 shots, 8 rebounds, 3 assists and 3 blocks in closing out the Thunder. 16 points on 12 shots, 10 rebounds, 4 assists, a steal and a block in Game 1 of the Finals. 20 points on 14 shots, 8 rebounds, 3 assists, a steal, a stat line similar to LeBron's, and running the break nicely to tie the game late in Game 2's win.

And the apology: Dear Shawn Marion, I'm sorry that all season I used you as an example of a player with a ridiculously exorbitant contract.