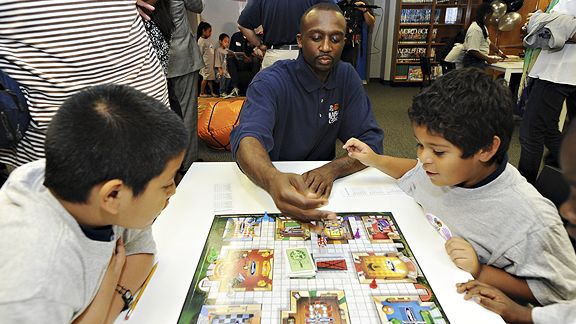 Andrew D. Bernstein/NBAE/Getty Images
Jason Terry at the new NBA Cares Learn & Play Center in Dallas.
The gym at the J.W. Ray Learning Center in Dallas was packed Monday afternoon with local children, employees of the Dallas Mavericks and NBA honchos.
The occasion was a ribbon-cutting for what David Stern said was, amazingly, the NBA's 610th "learning, playing and living" center. Thanks to the NBA and its sponsors, the center now features a truly cutting edge computer lab built into a renovated school library. The before-and-after photos told a big story, as did the you-have-to-see-it-to-believe it computer desktop that was projected onto a wall-mounted display, and responded to touch, drawing with special markers and all kinds of stuff. (A bit like this, but smaller.)
This was at once both the cheesiest, most staged event I have ever attended ("KIDS, everyone, look ahead ... SMILE ... on the count of three, everybody say 'NBA cares!'") and, thanks largely to the Mavericks in attendance, truly heart-warming. No kidding. Jason Terry, Brian Cardinal, Corey Brewer, Brendan Haywood, Rodrique Beaubois -- they were not going through the motions of making an appearance. They were really playing with those kids.
Rick Carlisle looks like he hasn't slept in three days, but he was hands-on, exploring the cool new stuff, making buddies with the children.
Terry was particularly in tune, at one point taking the microphone and asking all the children to stand up and say "if I believe ... I can achieve."
They screamed it. He followed up with a cool: "And I believe you will," which left a little magic hanging in the air.
There was even a good omen for basketball fans, in the public rhetoric of David Stern. Tuesday marks another round of collective bargaining with the players union. One of the very first things Stern did when it was his turn to talk -- before, even, the all-important thanking of sponsors HP and State Farm -- was thank the players in attendance, saying their presence there in the middle of the Finals (Mavericks' president Terdeema Ussery called it "a pretty brutal series") "says something about our players."
And it does.
It would be a great time to praise Mark Cuban for employing so many stand-up young men. Only ... the event's only no-show among the announced guests was Cuban himself.