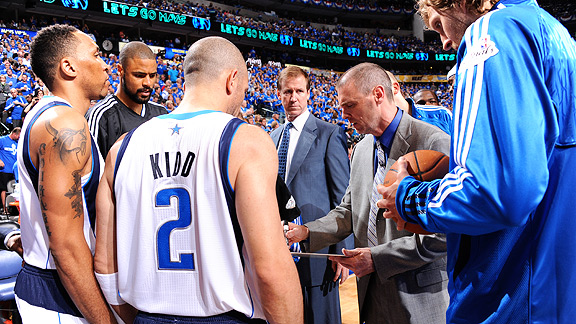 Andrew D. Bernstein/NBAE/Getty Images
Rick Carlisle made some drastic shakeups to the Mavericks' rotation work in Game 4.
DALLAS -- Rick Carlisle said the players win the game, and in the big picture he's right about that.
But in a series of razor-thin margins between the players on the Miami Heat and Dallas Mavericks, the slightest of adjustments can have an outsized impact. Three straight final-possession games have the Mavs and Heat justifiably tied at two apiece, and Tuesday it was the subtle adjustments Dallas' coach made before and during the game that swung it.
We talked about Dallas' superior depth heading into the series, but look at the box score and you'll realize the Mavs were using a tighter rotation than Miami's. Carlisle made a fairly complex series of adjustments that involved changing his starting backcourt so that he could entirely reupholster his forward rotation, and then threw a few more wrinkles into his special fourth-quarter sauce as the Mavs once again rallied late.
Ultimately, he was using a 7.5-man rotation, with Brian Cardinal as the 0.5 with "remove only in case of emergency" tattooed on his warm-ups. Dallas' bench only played 71 total minutes, barely more than the 67 from Miami; only six Mavericks scored.
And Carlisle made it work.
He made it work first by bringing DeShawn Stevenson off the bench and starting J.J. Barea at point guard. After a series of bad starts by Dallas' starting lineup, Barea's ball pressure and penetration got Dallas into a better offensive flow early in the game. After constantly finding themselves digging holes early in each half, the Dallas starting five was a +1 on Tuesday.
Starting Barea rather than Jason Terry kept Terry in his accustomed bench role (although it still limits his minutes -- he played 35 while the other prominent players on both sides played at least 39), and Carlisle pointed out it's something Barea has done before. He started 16 consecutive games in the middle of the regular season.
"He gives us a different dimension to our team," Carlisle said. "I thought he did a good job. His stats don't look great, but his penetration helped us and his ball pressure helped us."
Second, Stevenson coming off the pine allowed Carlisle to tweak his forward rotation. The Mavs felt Shawn Marion was playing too many minutes, largely because of the horrifying play of backup Peja Stojakovic, but using Barea in his place isn't a realistic option. Stevenson, on the other hand, could come in and immediately relieve Marion in guarding LeBron James or Dwyane Wade.
"I knew we had to take Marion's minutes down," Carlisle said. "He can't play 43 minutes. We can't expect him to be down in a stance and picking up James full court and all those kinds of things. Stevenson was great."
Stevenson, in fact, played 26 minutes despite theoretically being "benched" -- something he's done only one other time since the All-Star break. Stevenson said he was given no indication before the game that he'd play so much; he was just told he'd be backing up Marion and to be ready.
The other aspect of the rotation rebuild was using Cardinal in Stojakovic's place when Nowitzki got his rest late in the first and third quarters. Cardinal, as a true 4, relieved Marion of the need to defend Chris Bosh in stretches. And while he didn't score, the sheer fact that he was less of a sieve than Stojakovic proved helpful.
Cardinal also had to act as the backup 5 when Brendan Haywood proved unready in the first half, laboring through three ineffective minutes. That takes us to the one area where Carlisle and the Mavs had genuinely good fortune -- Tyson Chandler was able to play 43 minutes and pick up only three fouls, avoiding the type of foul trouble that would have carved a gaping hole in Dallas' frontcourt rotation.
But coming down the stretch, Carlisle was able to throw a few other wrinkles into the mix.
First, he went to a zone defense down the stretch that flummoxed Miami's offense. Granted, it hasn't seemed particularly hard to force the Heat to take low-percentage shots in crunch time, but because Miami had rarely seen the zone this series, it fostered a special brand of confusion. The Heat scored only 14 points in the fourth quarter.
"To change up the pace a little bit," Jason Terry said. "It worked for us."
Second, he left Stevenson on the court and Marion on the pine for the game's final 14 minutes. At the buzzer, it was Stevenson on Wade for Miami's final play -- and if you're curious, he said he was planning on fouling until Wade lost the ball in the backcourt.
On paper this is insanity -- Marion is just flat-out better. In this particular game, however, it messed up Miami's rotations because there were four shooters on the floor. The final layup by Dirk Nowitzki came in part because Stevenson was spotting up in the corner rather than having Marion floating in the paint. Because of Peja's struggles, it's one of the few times this series Dallas has lined up with four shooters on the floor.
"We need four shooters out there," Stevenson said. "It opens it up for Dirk."
"It makes them honest. When Tyson went down the lane and got the foul, you're either going to take that or a 3. So at the end of the game it helps us."
All of those moves gave the Mavs just enough of a nudge to get past the Heat in this one, and leaves the ball in Erik Spoelstra's court to come up with suitable answers in the now-pivotal Game 5 on Thursday.
The most impressive wrinkle, however, may have been offered by Carlisle at the end of his news conference afterward.
"We'll see what we do in Game 5."
That's right -- he was completely non-committal about whether Dallas will continue to line up this way, or try again to tweak the rotation in a way that produces a momentary advantage. We have two days until tip-off, but the mind games have already begun.