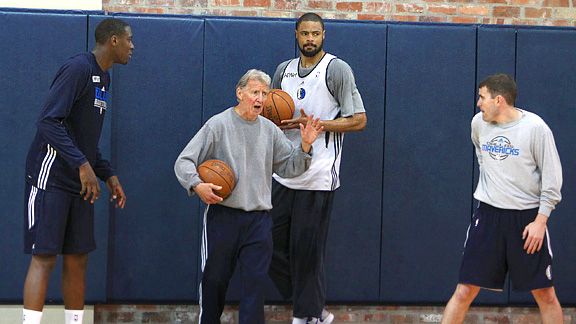 Nathaniel S. Butler/NBAE/Getty Images
Dallas coaching consultant Tim Grgurich talks to players -- and not to the media.
If things break a certain way in Miami this evening, this day will go down as one of the greats in Dallas sports history. If so, credit will be handed around the organization in the days to come. To Dirk Nowitzki, for turning in one of the great playoff runs in NBA history. To Rick Carlisle, for pulling the right strings. To Tyson Chandler, for emerging as the kind of player who can make a band of so-so stoppers into a credible championship defense. And on and on.
Then there are three guys who may or may not deserve to be mentioned next: Coaching consultant Tim Grgurich, director of sports psychology Don Kalkstein and director of basketball analytics Roland Beech.
Are some or all of them vitally important to the team?
Hard to say. I asked to interview all three, and was told quite clearly that it was a no-go on all three counts, in no small part because Mark Cuban likes to keep these guys under wraps.
Grgurich is widely seen as one of the greatest coaches in the game who simply does not have a taste for the bright lights that come with the top spot. He has long written his own ticket as perhaps the most valued assistant in league history. He is serious about not talking to the media at all. (Years ago, decked out in a media credential, I asked him some casual question in the locker room, something like whether the team was going to have shootaround the next day, and he got a terrified look on his face, turned, and walked briskly away.) Grgurich has special influence with players, perhaps because they are sure, with absolute certainty, that he's no glory hound.
Their lives are full of people -- yes, including NBA coaches -- who want to "help" the players mainly in the name of furthering their own careers. Grgurich has perfect defense against that -- he's almost never in the media and he's certainly never taking credit for anything. Combine that with a legendary basketball camp, and by all reports a profound knowledge of the game, and you have a guy who can get in the ears of players like Jason Kidd and Tyson Chandler in the way that most can not.
Kalkstein, meanwhile, makes it his business to talk to all the Mavericks nearly all the time. Jason Terry tells ESPNDallas' Jeff Caplan that Kalstein is so plugged in to the mood of the team, that Terry asks Kalkstein how his teammates are feeling, instead of the other way around.
Meanwhile, the Mavericks sweat their team is the pinnacle of healthy off-court relations. And this is a very rare team that shows significant improvement when stress levels are higher -- in the playoffs and in crunch time. Meanwhile, does the fact that they're the only team with a full-time sports psychology coach? Hard to say without being able to talk to the coach. Some of the best insight from Kalkstein comes from his Twitter account, which is thick with advice like this, before Game 6:
Changing your game when you're most frustrated is the least reliable time to change, this is because your thoughts are unreliable too.10 p.m. ET via twicca
Favorite
Retweet
Reply
DK
think2win
And finally, there's Beech. Not too many years ago, he ran his own independent stat-geeky website, 82games.com. He was a fantastic teammate at Train Like a Pro in David Thorpe's gym. And now there he is on the bench with the Mavericks' coaching staff, where he is learning the game in a way no stat geek ever has -- he's the first quantitative analyst to join a coaching staff all season.
Presumably, he is also influencing the decisions the coaching staff makes as well.
In general, statistical analysis has found that replacing one NBA coach with another does not make a lot of difference. However, similar analysis suggests that Carlisle is on a short list of coaches who get more than expected out of their players.
Does that have something to do with Beech?
Hard to say, as Beech too is on Cuban's list of people who don't talk to the media.
Grgurich, Kalkstein, Beech ... they're all part of a staff that appears to be working far better than most. If they're weapons in making that happen, they're secret weapons.