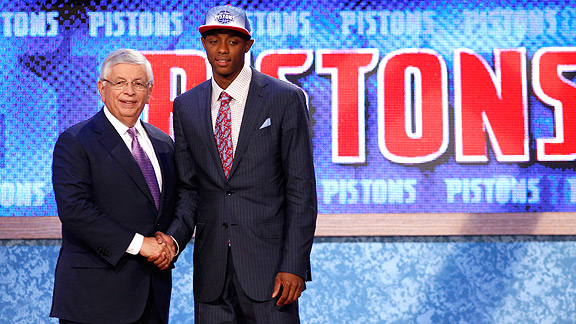 Mike Stobe/Getty Images Sport
If you're looking for photos of a beaming Brandon Knight, don't look at draft night.
On Wednesday Brandon Knight confirmed a story I had heard that, in breaks between AAU games, when his teammates would rest, he'd do two-ball drills on the sidelines, alone.
And he can't remember ever getting a B.
He's an intense guy.
Did you notice that when he was picked eighth, by the Pistons, Brandon Knight didn't smile all that much?
Maybe that's just his natural intensity, or maybe he was disappointed to have fallen to eighth.
He wants to ace every test, and generally does, but in the test of the draft, a guy who saw himself as a candidate for first pick, and who worked out for teams with the top seven picks, well he didn't appear to be giddy about going eighth.
He said all the right things -- that's another test.
But Dan Feldman of Piston Powered watched him every step of the way and didn't see joy so much as acceptance. And from Feldman, at least, the feeling was mutual.
"Chauncey can stand out there and shoot with the best of them, and this kid, that's what he does," [Joe] Dumars said. "He can really, really shoot the ball. … He's going to be one of those point guards that when you name the best shooting point guards, he's going to be one of those guys."

Let's slow down. Way down.

The first step is understanding why Knight fell. By my count, he was the eighth-best prospect for the Pistons in this draft. Getting him with the eighth pick is fitting, not a blessing.

I suspect many fans are happy with Knight because he's not another European like, gasp, Darko. Fans with that simple-minded view will likely compare him to previous John Calipari point guards John Wall, Tyreke Evans and Derrick Rose. But if those three are the bar, Knight won't clear it.

There are plenty of reasons to like Knight. He's talented, smart, hard-working, athletic and long -- a special combination. How many players possess all five of those attributes and fail?

There's just one problem: he wasn't very good at playing basketball last year.
Feldman then shows how Knight's production in college implies he has not yet played at a level that would imply NBA eliteness.
I'd add one thing: Working really hard and shooting well are magical qualities among young NBA players. If you can do those two things, it's amazing how often things work out. And there is every indication he'll do those two things.
But much more valuable than projecting great performance is witnessing great performance, and the evidence is that Knight hasn't done that, yet.