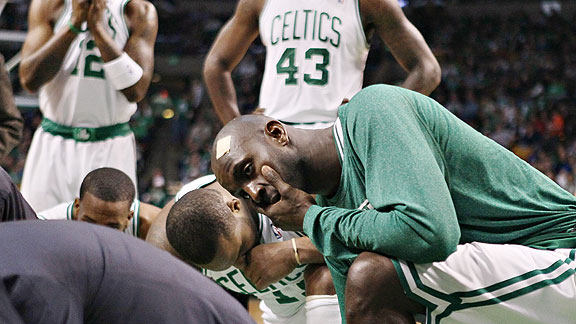 Elsa/Getty Images
Marquis Daniels was temporarily paralyzed. Kevin Garnett just kept telling him he'd be okay.
The worst moment of Marquis Daniels' basketball career came on February 6 of this year. He's still not cleared for full contact, as he recovers from a crash that left him temporarily paralyzed and ultimately needing spinal surgery.
Through the adrenaline and emotion of the moments he spent unable to even writhe in pain on the Garden floor, Daniels tells Jessica Camerato of CSNNE, the voice that kept him sane belonged to Kevin Garnett.
Marquis Daniels caught the ball near the baseline and attempted to drive to the basket against Gilbert Arenas. The two players collided and . . . in an instant, everything changed.

His right arm crashed into the parquet first, followed by his face. Daniels lay flat on the court, unable to feel his body but still conscious. He thought about his two young children – "Man, I can't raise my kids like this. This can't be it." -- as the crowd of 18,624 at the TD Garden came to a deafening hush, waiting -- and hoping -- to see any sign of movement.

Daniels heard a voice. In that moment, the most intense player on the court was suddenly the calming assurance he needed.

"I just remember I kept hearing Kevin [Garnett] telling me, 'You're gonna be alright. You're gonna be alright,'" Daniels told CSNNE.com in a telephone interview. "I was like, 'I can't move.' He said, 'What do you mean?' He kept telling me I was gonna be alright. I think that helped me out a lot, just hearing his voice telling me I was going to be alright. I stayed calm, I didn't panic.

"It was a trying time for me. I didn't take anything for granted. I was going to take everything seriously from now on."